Can U.K. Manufacturing Growth Prospects Offer a Silver Lining?
While Q3 U.K. real GDP growth eased less than the consensus expected, and recession fears have tapered after the Brexit vote, economic growth remains weak. In any event, those recession fears were unfounded given that ECRI pointed out right after the referendum that "a recession is still unlikely to result until the economy enters a window of vulnerability… a condition that was not fulfilled going into the Brexit referendum."

In need of a growth driver, some hope that manufacturing will help, with the latest U.K. Manufacturing Purchasing Managers Index reading remaining close to September's 27-month high, and recovering from its July plunge following the Brexit vote. Indeed, ECRI's much broader U.K. Coincident Manufacturing Index (UKCMI) has been in a GRC upturn since mid-2015, and its growth rate rebounded in August to approach April's 16-month high (Chart).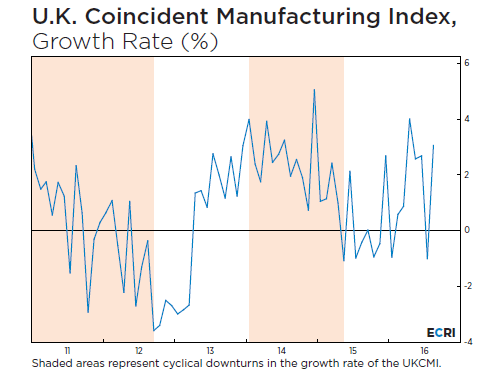 Yet, overall growth is still anemic, and with the manufacturing sector accounting for only about 10% of U.K. GDP, the revival would need to be fairly pronounced to make a difference to overall growth. Our latest update to the U.K. Leading Manufacturing Index provides insight into whether manufacturing activity is set for a sustained recovery, and the implications for the broader economy.