Can German Manufacturing Growth Improve?
After a tumultuous year for Germany's export-oriented economy and weak Q3 2016 GDP growth, concerns remain for the key manufacturing sector. Even with the German manufacturing Purchasing Managers Index (PMI) increasing further, our German Coincident Manufacturing Index (GECMI) points to weakness in the manufacturing sector.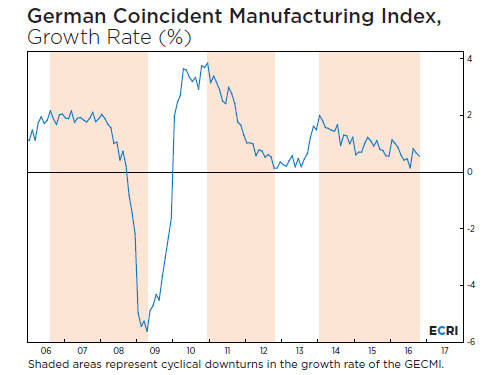 Indeed, year-over-year (yoy) growth in ECRI's GECMI (chart) – a comprehensive measure of manufacturing activity – remains in a downturn, as anticipated by the downturn in the yoy growth rate of ECRI's German Leading Manufacturing Index (GELMI, not shown). However, GECMI growth is still above its summer low, despite slipping again in its latest reading.

With global industrial growth in an upturn, does the German manufacturing sector stand to benefit? To answer this question, ECRI's latest report features the GELMI, alongside the GECMI, clarifying the future trajectory of German manufacturing sector growth.