Brexit No U.K. Recession Trigger
Fears have flared that the U.K. is sliding into recession following the vote in favor of Brexit, but ECRI's cyclical indicators are not flagging an imminent economic contraction. The reason is that, at this stage of the economic cycle, the U.K. economy is not susceptible to recessionary shocks.

The vote for Brexit certainly came as a surprise to most, but the full fallout remains unclear. It is the resultant uncertainty that has been roiling the markets, and could well damage growth prospects further.

To be clear, the U.K. has been in a growth rate cycle (GRC) downturn since late 2014, as first flagged by the U.K. Long Leading Index (UKLLI) as far back as early 2014 (ICO, February 2014). Indeed, at the end of 2015, we reiterated that the economic slowdown was "poised to persist" (ICO Focus, December 2015). However, after UKLLI growth rose a bit above last year's lows (not shown), U.K. Coincident Index (UKCI) growth has also ticked up above its lowest reading since the spring of 2013 (chart).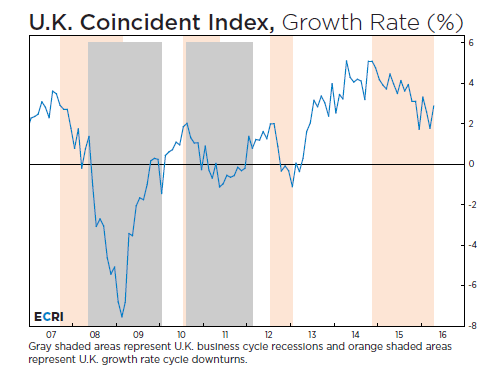 It is plausible that recent developments will end up reducing longer-term U.K. trend growth, which has already been declining for many years. At the margin, this is likely to increase recession frequency in the years ahead, consistent with our "yo-yo years" thesis (ICO, March 2012). However, a recession is still unlikely to result until the economy enters a window of vulnerability, as measured by our cyclical indicators — a condition that was not fulfilled going into the Brexit referendum.

Of course, cyclical circumstances are subject to change, and the current GRC downturn can still culminate in either a recessionary "hard landing" or a "soft landing" followed by a reacceleration in growth. We will therefore continue to closely monitor ECRI's array of U.K. indexes, including the UKLLI.

So what are we to make of the proliferation of recession forecasts since the Brexit vote, some predicting one starting next year? The point to remember is that none of these forecasters have successfully predicted a recession that far ahead, and for good reason. Cyclical conditions can change dramatically over such time frames in ways that may be impossible to model. This is the essence of the highly complex nonlinear system that is the global economy.

That is why, after studying business cycles for six decades, ECRI's late co-founder, Geoffrey H. Moore, counseled us, "Don't try to predict the predictors." Instead, we will continue to monitor our proprietary predictors, which can herald the cyclical vulnerability that is a necessary condition for a shock to become recessionary.