German Exports Face New Headwind
The German trade imbalance has now become the largest in the world, even surpassing China's. As the top exporter in the European Union, with exports accounting for nearly half of GDP, Germany has become heavily export-dependent.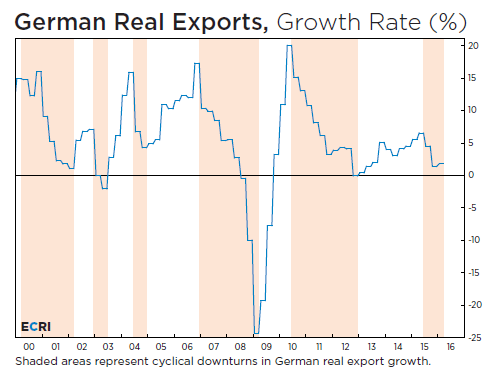 German real export growth (Chart) has been slowing since Q2 2015, dropping to a two-and-a-half-year low in Q4 before edging up in Q1 2016. This downswing was correctly anticipated by the early-2015 cyclical downturn in the growth rate of ECRI's German Leading Exports Index (GELExI, not shown).

With an export growth slowdown already in progress, the Brexit is an additional headwind. Though the structural change heralded by the Brexit vote is not imminent, as it will take time to change the rules governing trade, the British pound has already depreciated sharply against the euro. In the coming quarters, this will likely weigh on German exports to the U.K. – Germany's third-largest export destination – with German goods becoming relatively more expensive.

Meanwhile, an update to the GELExI clarifies whether demand for German exports will help offset or exacerbate the slowdown. Separately, stepping back from these cyclical developments, Germany faces the longer-run reality that it is "becoming Japan," along with the rest of the Group of Seven economies.