Assessing Labor Market Strength
After two months of strong employment reports, the Fed is convinced that the job market is now on the right track. Thus, New York Fed President William Dudley remarked that robust job growth has "helped allay concerns that arose earlier this year that job growth was beginning to stall. Indeed, these reports reinforce my view that labor market conditions continue to improve."

But employment data from other key sources are not as reassuring. Recently, we showed that the shrinking of the labor force explains the discrepancy between a low jobless rate accompanied by comparatively weak job growth, with the employment/population (E/P) ratio, which had plummeted due to the Great Recession, seeing only a modest reversal of its recessionary losses. To make matters worse, only the E/P ratio for those with less than a high school diploma has seen real improvement, while the E/P ratio for those with at least a high school diploma has stayed virtually flat, which remains true today.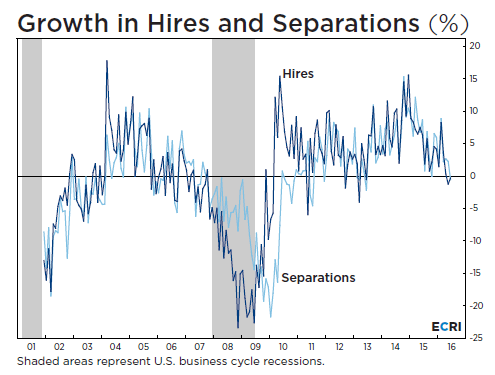 Separately, we turn to the Job Openings and Labor Turnover Survey (JOLTS), with data available through June, for additional insights. It is clear from the chart that year-over-year (yoy) growth in both hires (dark blue line) and separations (light blue line) are in decisive cyclical downturns, having dropped into negative territory for the first time in three years. In other words, the JOLTS-based perspective of the jobs market is not exactly cause for celebration.

Since the JOLTS data, however, reflects the current conditions in the labor market, it is not possible to determine whether the improvement in the job market, which will be a crucial factor for Fed rate hike considerations, will persist. Here ECRI's forward-looking U.S. Leading Employment Index, which is designed to anticipate cyclical turns in employment conditions, offers important clues.