Anchors Adrift
Last August, four months prior to the Fed's December 2015 rate hike, we wrote that "the Fed's rate hike plans are on a collision course with the economic cycle." Back then, the Fed was expecting economic growth to pick up, but ECRI's forward looking indexes warned otherwise.

In fact, at the time the U.S. economy had already entered a broadbased growth rate cycle downturn, with the growth rates of ECRI's U.S. Coincident Manufacturing Index (USCMI) and the U.S. Coincident Services Index (USCSI) falling since early 2015. With growth clearly slowing in the two most important sectors of the economy, data in hand was not at all supportive of the series of rate hikes expected to constitute the Fed's lift-off from ZIRP.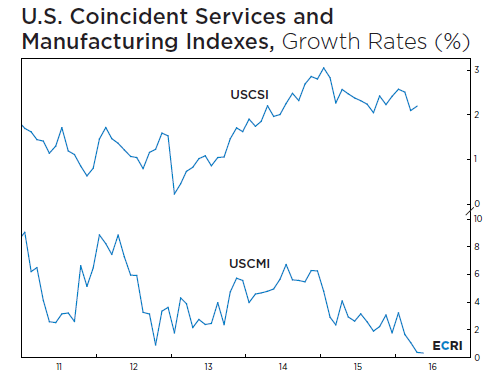 Indeed, as the chart shows, the growth rates of the USCMI and USCSI have continued to trend down. Although USCSI growth ticked up in its latest reading, it remains in a cyclical downturn and close to March's six-month low. Meanwhile, USCMI growth has fallen to a 6½-year low, suggesting that the situation in the manufacturing sector is much worse.
Understanding where we are in the economic cycle, it is no surprise that the Fed has been forced to turn even more dovish recently. Nevertheless, if the Fed remains "oblivious to the direction of the economic cycle," it will continue to be caught flat-footed by economic headwinds, be they structural or cyclical.