More Wage Inflation Deception
Plainly, year-over-year (yoy) average hourly earnings (AHE) growth is holding near its highest reading since 2009 (blue line). But, underlying this obvious fact is a slowing economy, with yoy growth in aggregate pay (purple line) and aggregate hours (gold line) in cyclical downturns, with both approaching February's two-year lows.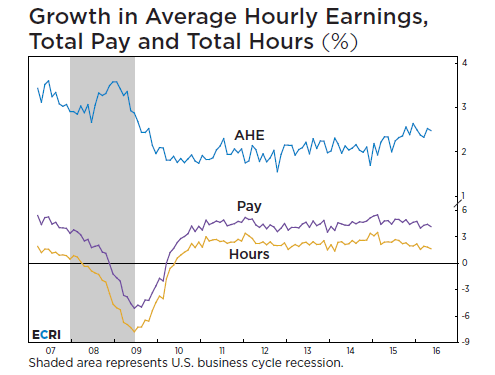 Basically, AHE is the ratio of aggregate pay to aggregate hours. Therefore, to understand why AHE growth is performing as it is, one must look at growth in both pay and hours.

The rise in AHE growth from its earlier lows happened for paradoxical and unwelcome reasons that we first flagged in the spring of 2014, and then again a year or so later, when Fed Chairman Janet Yellen saw "tentative signs of stronger wage growth" as a harbinger of inflation. But we explained then that AHE growth had risen only because growth has fallen faster for aggregate hours … than for aggregate pay.

Therefore, we noted over two years ago that, "while rising yoy AHE growth may seem like a good thing, in this case it is actually underpinned by cyclical downturns in the components that comprise it. … The bottom line is that the current rise in overall AHE growth is not a sign of strength. … It is risky to presume, based on AHE, that policy action has effectively achieved its goals of boosting inflation and healing the labor market."

Fast forward to today, yoy AHE growth is staying near its recent highs because the yoy growth rates of both pay and hours are nearing two-year lows, as shown in the lower panel of the chart.

In sum, this data suggests labor market weakness, not labor market strength.