Three Highlights from Bloomberg Interview

1. Fed rate hikes on collision course with economic cycle

Typically, rate hikes begin when the economy is accelerating, and in turn cause the economy to start slowing a few quarters later. This is why an initial rate hike is taken as a sign that the economy is just fine, thank you.

What people may not realize is that U.S. economic growth has actually been falling since the start of 2015. Year-over-year (yoy) growth in ECRI's U.S. Coincident Index, a really broad measure that includes GDP, employment, income and sales, has fallen to a 16-month low.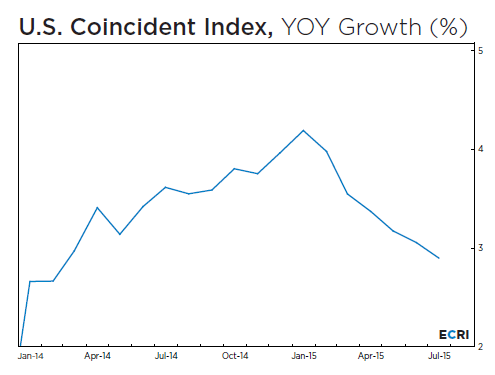 -Yoy payroll jobs growth is at a ten-month low, following eight-month low in July
-Yoy personal income growth is at a four-month low
-Yoy growth in manufacturing and trade sales is at a 16-month low
-Yoy industrial production growth is near a two-year low
-Yoy GDP growth is at a two-quarter low
-Qoq annualized GDI, which is at least as meaningful as GDP, is at 0.6%
-The government is now publishing the average of the GDP and GDI for a more accurate read, and its yoy growth is at one-year low
-Fed's GDI-based "stall speed" measure is at 0.5%, well below its 2% recessionary threshold.
We understand that the Fed has a seven-year itch, and wants to raise rates after keeping them at zero for seven years. This is why, at the beginning of the year, with growth having accelerated throughout 2014, we asked, "if not now, when?" Today, eight months later, the reality is that growth has been slowing all year, and as you can see, that's a fact, not a forecast.


2. It's a Misconception that we're at Full Employment

-It's well known that a big reason the jobless rate has fallen is that so many have dropped out of the labor force, so the percentage of the population that's actually employed is more meaningful.

-The employment to population ratio for people without a high-school diploma has actually reversed the majority of its recessionary losses.

-But you might be surprised to know that the employment to population ratio for high school or college graduates -- eight out of nine American adults -- has not recovered any of its recessionary losses.

That's hardly what you'd expect from so-called full employment.

This tells us that the so-called jobs recovery has been spearheaded by cheap labor, with job gains going disproportionately to the least educated -- and lowest-paid -- workers.

-This is part of the reason why the Philips Curve, which tells you that inflation will rise once the jobless rate declines, simply hasn't worked.

-Please recall that in January of 2012 the Fed set a 2% inflation target. Just a couple of months later core PCE inflation dipped below 2% and has drifted steadily downward ever since, dropping to a 3½-year low in its latest reading.

-And yet the Phillips Curve, which is still predicting that inflation will turn up, remains key to the Fed's rationale for a rate hike.

3. World Export Growth Near Zero, Even as Prices Collapse

-The last time export price deflation was this intense, not only was Chinese GDP growth even weaker than it is today, but also every G7 economy was in recession.

-And this isn't about low oil prices: following a post-GFC pop, export price growth turned negative in 2012, and has remained there.

-It is ominous that the global trade pie is shrinking so rapidly today – with none of the G7 economies in recession – yet.

So in the U.S., where we already have a long-term decline in trend growth since the 1970s, the Fed's tried for years to pull demand forward from the future, exacerbating the long-term decline in trend growth. And on top of this secular downtrend, we're in a cyclical slowdown that is not over. This is the context in which the Fed is planning to raise rates. The good news is that our forward-looking indicators are not pointing to recession, yet.
VIEW THIS ARTICLE ON BLOOMBERG