U.S. Coincident Index Unchanged
The U.S. Coincident Index (USCI) was unchanged at 171.3 in August. Year-over-year (yoy) growth in ECRI's USCI, a broad measure of economic activity that includes GDP, employment, income and sales, ticked down to 1.6%.

The chart shows that this reading is lowest since December 2013, a 32-month low, illustrating the pronounced, pervasive and persistent cyclical downturn in growth that has been going on for over a year and a half.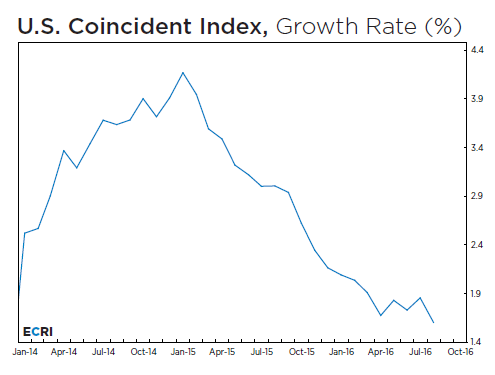 Over a year ago (US Essentials, January 2015) – contrary to the consensus that expected economic growth to improve even further as the year progressed – ECRI's leading indexes foresaw a slowdown.
To put the current outlook in perspective please see links below:

- watch Lakshman Achuthan's recent interview on Bloomberg TV.

- read Lakshman Achuthan's interview on Seeking Alpha "Cyclical Long-Term Slowdown In U.S. Growth But No Recession"
- any policy proposal that doesn't pass our litmus test misses the mark and won't solve our problems.