U.S. Coincident Index Ticks Down
The U.S. Coincident Index (USCI) ticked down to 171.1 in September from 171.2 in August. Year-over-year (yoy) growth in ECRI's USCI, a broad measure of economic activity that includes GDP, employment, income and sales, decreased to 1.3% from 1.6%.

The chart shows that this reading is lowest since December 2013, a 33 month low, illustrating the pronounced, pervasive and persistent cyclical downturn in growth that has been going on for almost two years.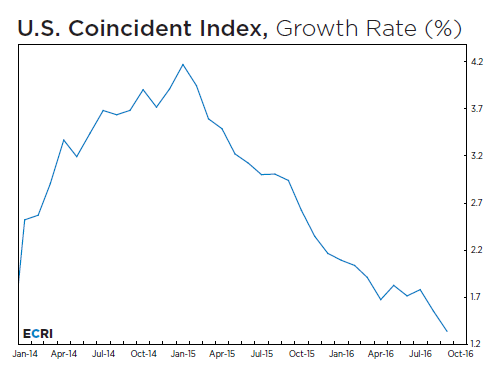 To put the current economic cycle in perspective please see links below:

- watch Lakshman Achuthan's recent interview on Reuters.

- read ECRI's "Early" and "Late" Cycle Verdicts are Baseless.

Over a year ago (US Essentials, January 2015) – contrary to the consensus that expected economic growth to improve even further as the year progressed – ECRI's leading indexes foresaw a slowdown.

Lots of policy prescriptions are flying about, but hardly any of them are worth anything because they miss the point. The litmus test for any policy is, does it improve demographics or productivity growth? Any policy proposal that doesn't pass our litmus test misses the mark and won't solve our problems.