U.S. Coincident Index Growth Rate Unchanged
The U.S. Coincident Index (USCI) edged up to 170.8 in July from 170.3. Year-over-year (yoy) growth in ECRI's USCI, a broad measure of economic activity that includes GDP, employment, income and sales, remained same at 1.5%, a 30-month low.

The chart shows that this reading is far below its January 2015 peak of 4.2%, illustrating the pronounced, pervasive and persistent cyclical downturn in growth that has been going on for the past year and a half.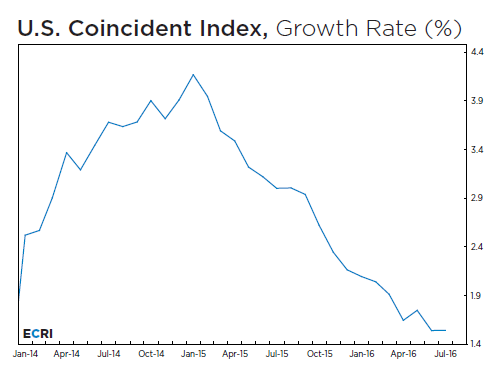 To put the current economic cycle in perspective please see links below:

- read The New York Times article Growth Weighed Down by Inaction.

- read ECRI's "The Rate Hike Cycle that Wasn't."

Over a year ago (US Essentials, January 2015) – contrary to the consensus that expected economic growth to improve even further as the year progressed – ECRI's leading indexes foresaw a slowdown.