Stalling or Falling?
One consequence of persistently low productivity growth is lower trend growth. As St. Louis Fed President James Bullard observed a couple months ago, echoing ECRI's long-held "yo-yo years" thesis, this implies "a higher probability of recession" (ICO Essentials, February 2016).
About five years ago, a Fed study indicated that the "stall speed" of the U.S. economy was best expressed in terms of the two-quarter annualized growth rate of real Gross Domestic Income (GDI). If this measure fell below 2%, the economy would slip into recession in relatively short order, as it always had in the past.

The latest GDI data release shows that, following the Fed's analysis, this "stall-speed" metric fell below the 2% threshold in mid-2012, to a low never seen away from recession (chart). Thereafter, except for a foray above that mark from Q2 to Q4 2014, and a slight pop just above it in Q3 2015, the measure has stayed below 2% the entire time, i.e., in ten of the last 14 quarters. The behavior of the equivalent GDP-based measure has been roughly similar (not shown).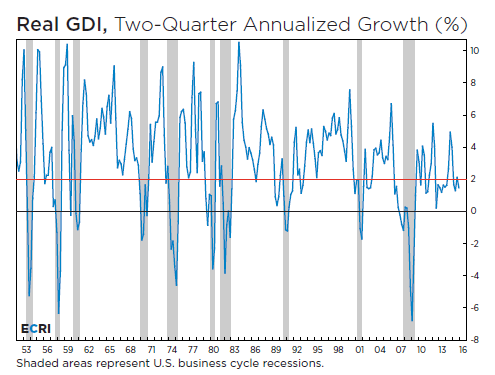 In fact, the GDI-based "stall-speed" metric has averaged just under 2% since mid-2012. Yet, there has been no recession, suggesting that the "stall speed" concept was flawed to begin with.
Based on many decades of study, ECRI researchers have a different perspective. We do not believe economies are like aircraft, and therefore liable to stall out and crash when flying below a certain speed. Rather, while lower trend growth does tend to make slowdowns more likely to culminate in recessions by making it easier for growth to slip below zero, it takes pronounced, pervasive and persistent downturns in our leading indexes to signal the opening of a recessionary window of vulnerability, within which any negative shock of reasonable size should trigger a recession.

U.S. Coincident Index growth has now dropped to a 32-month low, as the slowdown intensifies (not shown). Judging by the latest "nowcasts" for Q1 2016, it appears probable that the metrics shown in the chart will fall further. That could once again stir up recession fears, especially if "stagflation lite" pushes the Fed to become more hawkish, thereby roiling the markets. Yet, the Fed seems to be paying more attention to what looks like its new "third mandate," namely, financial stability, which amounts to shoring up the stock market. If so, in the context of this "Fed put," it may choose to be as dovish as needed to head off a serious bear market.

Nevertheless, the existence of such a policy since the late 1990s has helped to ensure that most stock market corrections are modest in magnitude, storing up the stresses until a recession forces their sudden release. This may help explain why 21st century recessions were accompanied by bear markets larger than any in the post-World War II period in the 20th century, and why the Fed finds it even more essential to try and avert recessionary bear markets.
The situation is reminiscent of letting dry kindling accumulate for decades by promptly extinguishing any brush fires. Over time that becomes a counterproductive policy, as the danger of a conflagration grows, making it even more critical to avoid not only brush fires, but even controlled burns. Thus, when the mounds of dry kindling go up in flames, a rampant forest fire may well result.

Today, as we are not yet in a cyclical window of vulnerability, a recessionary blaze is not imminent. Still, it is a fact that economic growth is winding down, and our forward-looking indicators suggest that it will continue to do so for the foreseeable future.