Stagflation Lite & Simple Math
See link below to watch the interview on Reuters TV.
Payroll jobs growth (yoy) has been falling since early 2015, and has been stuck at a 26-month low for several months now. Similarly, yoy GDP growth is down to a three-year low.

But at the same time, core PCE inflation, which the Fed focuses on, has run up to a 23-month high. In other words, growth is still slowing, and inflation is picking up at the same time.

ECRI saw this coming, with our separate leading indexes of growth and inflation forecasting stagflation-lite.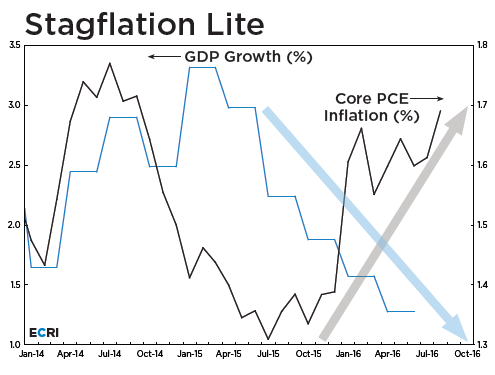 The markets are grappling with stagflation lite today, because of implications for both Fed and fiscal policy.

Much of this election cycle has focused on economic growth, and there's a mind-numbing amount of back-and-forth flying around on how to ramp growth up in one way or another.

But it's actually very simple math.

To see where growth is headed, you simply need to add up how much more productive we are, and how much more people are working.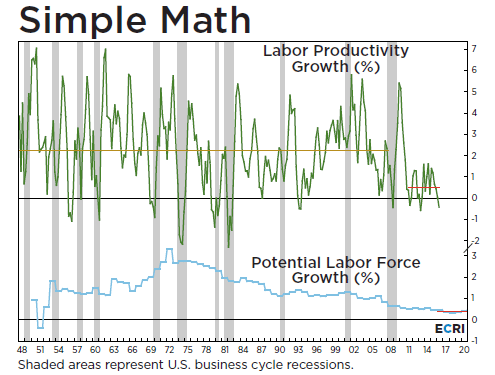 Longer-term, the labor force is hardly growing, and that's because the demographics are basically set in stone, with everyone agreeing that over the next five years potential labor force growth will be under ½%.

At the same time, as a nation we aren't getting more productive, meaning despite all the cool technology, we aren't producing much more per hour.

As the chart shows, productivity growth has averaged ½% a year over the past five years, and if that doesn't change, ½ + ½ = 1% longer-term growth, and that's much lower than the 3% - 4% that people are hoping for.

The key takeaway from this simple math is that, to get there, we'd need productivity growth in the 3% range, or six times what it's been for years now.

So when judging various plans to boost growth, what we really need to be asking is whether they will ramp up productivity growth for the long haul.

For some perspective, the only period when Trump and Clinton have seen such strong, sustained productivity growth (3%-plus) during their adult lives was during the tech boom and the housing boom that followed, i.e., mid-1990s to mid-2000s.
VIEW THIS ARTICLE ON REUTERS