Simple Math Revisited
We noted some time ago that "[r]ecoveries have been weakening due to declines in growth in output per hour (i.e., productivity), growth in hours worked, or both. Taken together, they add up to real GDP growth. It's just simple math."

Specifically, we observed, "For the past four years, productivity growth has averaged just over ½% per year," while "[p]otential labor force growth [reflecting] the long-term trend in growth in hours worked … will stay at ½% per year at least for the next decade …given the demographics," according to the Congressional Budget Office (CBO). "Adding up the likely trend growth of these two measures – ½% for productivity plus ½% for hours worked – gives us just 1% longer-term real GDP growth."

Early this month, Fed Vice Chairman Stanley Fischer opined that "you cannot have a well-based judgment" about productivity growth, but then went on to declare, "I'm an optimist." Apparently, hope may be a strategy for the Fed. As it happens, those hopes were dented a few days later by the revelation that productivity had actually plummeted.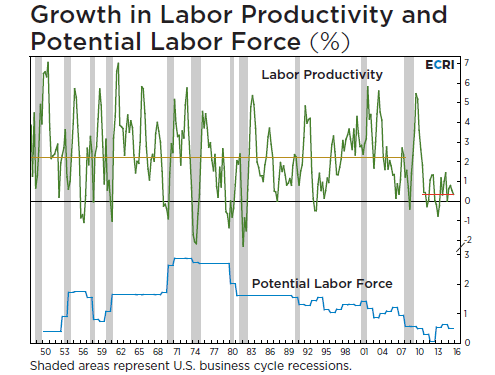 The math remains as simple today, but new data further complicates the policy predicament because the five-year average of yoy productivity growth has dropped to just 0.32% per year (red line), while the CBO's new estimate of yoy potential labor force growth (blue line) has fallen to under 0.44% for the next five years. With no reason (other than hope) to believe that productivity growth will revive anytime soon, the past five years' average of 0.32% yoy productivity growth and the next five years' projection of 0.44% potential labor force growth would add up to about ¾% longer-term real GDP growth, well below the 1% estimate the same math had indicated less than a year ago.

For perspective on this point, please recall that this figure of ¾% is the same as Japan's average real GDP growth over the past quarter-century, spanning its "lost decades." In that sense, this would be tantamount to the U.S. economy "becoming Japan."