Second Half Capitulation
At the beginning of the year (US Essentials, January 2015) – contrary to the consensus that expected economic growth to improve even further as the year progressed – ECRI's leading indexes foresaw a slowdown.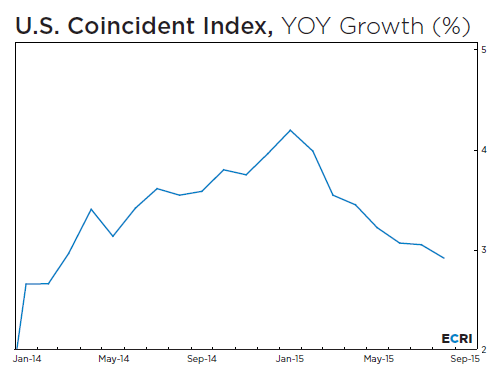 What most may not realize is that U.S. economic growth has actually been falling since early 2015. Year-over-year (yoy) growth in ECRI's U.S. Coincident Index, a broad measure of economic activity that includes GDP, employment, income and sales, has fallen to a one-and-a-half-year low.

Yet, for months, the consensus has continued to believe in the "second-half rebound" following the "weather-related" first-quarter weakness. That narrative is finally falling apart, with the dawning realization that the reality is 180 degrees from that popular view.

In a recent interview with The Wall Street Journal, New York Fed President Bill Dudley finally acknowledged that the "second half of the year will probably be a little bit weaker than the first half of the year." Some Wall Street houses are also starting to recognize that reality.

After all, as we pointed out over the summer, "a service sector slowdown has already joined the manufacturing slowdown that started last fall, and so the slowdown in overall growth is likely to intensify in the coming months. As such, hopes for a 'second-half rebound' are likely to be dashed."

The good news is that, notwithstanding the continued slowdown, ECRI's indexes are not yet pointing to recession.