Interview on Latest Jobs Report
Key takeaway from today's interview:
The latest jobs report far exceeded consensus expectations as the economy added 292,000 nonfarm payroll jobs.

But a closer look at the details reveals why concerns remain about the health of the labor market.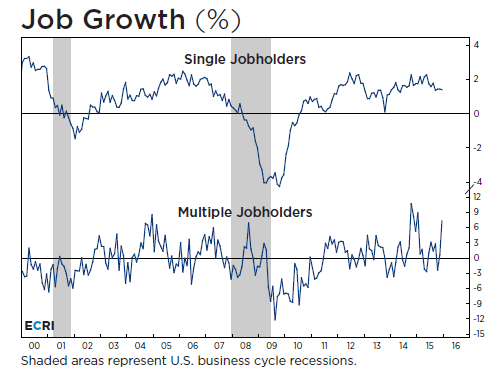 In December, year-over-year (yoy) growth in multiple jobholders rose to an 11-month high, while yoy growth in single jobholders eased to a three-month low. Specifically, since May the number of multiple jobholders has increased by 752,000, while single jobholders have increased by 429,000. In other words, multiple jobholders have been responsible for 64% of the net job gains since last spring. The disproportionate importance of multiple jobholders – forced to cobble together a living – shows why the labor market is weaker than it seems.

Notably, as long as these multiple jobholders log 35 hours of work per week — no matter how many part-time jobs that takes — they are considered full-time.