Eurozone Reflation
German Bund yields have spiked up in recent weeks, squashing speculation that they would turn negative in short order. Not coincidentally, Eurozone deflation fears have eased.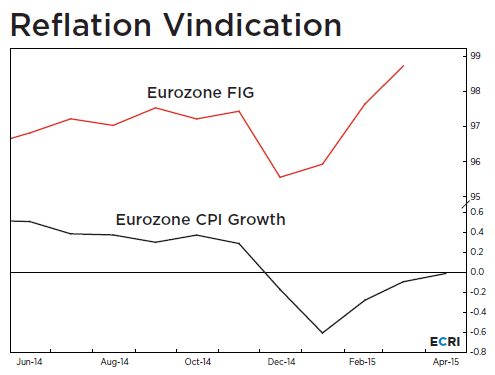 The upturn in nominal 10-year Bund yields was presaged by a surge in inflation expectations beginning in early 2015, when Eurozone inflation turned up (bottom line in chart). Notably, this inflation upturn, as well as the upswing in the market's inflation expectations (not shown), followed the earlier upturn in ECRI's Eurozone Future Inflation Gauge (EZFIG, top line).

Real yields (not shown) then turned up in late April, and have risen noticeably thereafter – but not as much as the increase in inflation expectations since early this year. Indeed, with the EZFIG issuing an unambiguous reflation call, having predicted a cyclical upswing in inflation, there is little risk of a relapse into deflation in the coming months, which should be flagged in advance by the EZFIG.