Plunging Predictions
The IMF's five-year-ahead forecasts of real GDP growth for most major economies have seen major declines in recent years. A case in point is the U.S., whose GDP growth forecast has been slashed to 1.6%, less than half the high of 3.4% from five years ago (Chart, dark blue line). Meanwhile, the Eurozone's GDP growth forecast has been reduced to just under 1.5% – only five-eighths of the 2.4% estimated in the spring of 2008 (light blue line). In essence, the U.S. GDP growth forecast is not much higher than this latest Eurozone GDP growth forecast. Thus, the IMF now expects GDP growth in the U.S. and the Eurozone to virtually converge over the longer term to around just 1½%.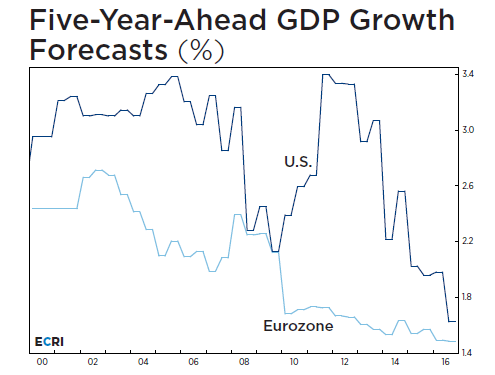 To be clear, the growth potential of these economies has not plummeted only lately. Rather, while ECRI first identified the long-term decline in trend growth over eight years ago, it is only in recent years that this structural shift has been more widely recognized by the powers that be. For example, after years of waiting for GDP to catch up to its ostensible potential, a Fed research paper more recently allowed that "output gaps close importantly through downward revisions to potential output rather than through rapid post-recession growth. The revisions are made slowly (over years)."

Of course, ECRI has been proffering an explanation of this decline in trend growth by way of the "simple math" of demographics and productivity growth for quite some time, but the consensus has embraced our explanation fairly recently. Similar simple math suggests that longer-term trend GDP growth is likely to converge well below 1% for Germany, France, and Italy. In other words, we expect further downward revisions to official longer-term GDP growth projections.

While the long-term structural decline in global growth is starting to be recognized, it is unlikely to be soon reversed. Overlaid on that trend is an ongoing cyclical upturn in global industrial growth, with a potential to stoke already-simmering cyclical inflation pressures against the backdrop of structural lowflation. Such shorter-term cyclical improvements are likely to be claimed as successes by policymakers for, as the saying goes, victory has a thousand fathers but failure is an orphan.