Only Purple Squirrels Need Apply
With job openings at near-record highs, according to the JOLTS data, some see an extraordinarily tight labor market. What they seemed to have missed amid the euphoric headlines was the drop in actual hiring. Here we update our analysis from last fall.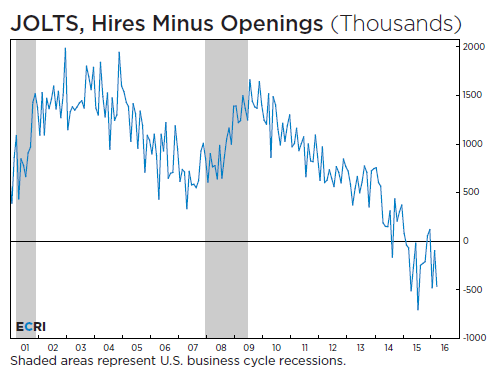 As the chart shows, the difference between the number hired and the number of job openings dropped to about half a million shortly before the start of the last two recessions (shaded areas). It then surged, peaking a little below two million soon after those recessions ended.

Following those two post-recession highs, hirings minus openings kept trending down for years. However, in the current cycle, it fell almost to the half-million mark by mid-2012, but then kept trending down, and has been negative almost continuously since early last year.

The point is that the difference between the number hired and the number of job openings is not merely shrinking, but has plunged to a negative half a million jobs. How can that be happening at the same time most headlines suggest the job market is strong?

When the number of job openings surges so much faster than economic growth, it results in a large and growing divergence between those ostensible job openings and authentic hiring. This is not an indication of a truly tight labor market. If it were, wages would be soaring, whereas wage growth has actually declined in real terms since last fall.

Rather, this suggests that employers are being increasingly choosy, and intensifying their hunt for the so-called "purple squirrel" – candidates with the perfect combination of skills, education and experience, who will work for peanuts. It is because purple squirrels are the rarest of creatures, that real hiring has dropped.

So the spurt in headline job openings is a misleading marker, and the job market is not really as tight as some believe. There is more than enough slack for employers to be picky without needing to boost wages significantly to attract suitable candidates.

The job market reality, then, is that many of "job openings" will never be filled, as only purple squirrels need apply.