Multiple Jobholders Boost "Full-time" Employment
The latest jobs report far exceeded consensus expectations as the economy added 271,000 nonfarm payroll jobs, and the number of full-time workers surpassed its pre-recession high. As a result, a December rate hike appears highly probable, essentially extinguishing lingering concerns following the weak Q3 GDP reading.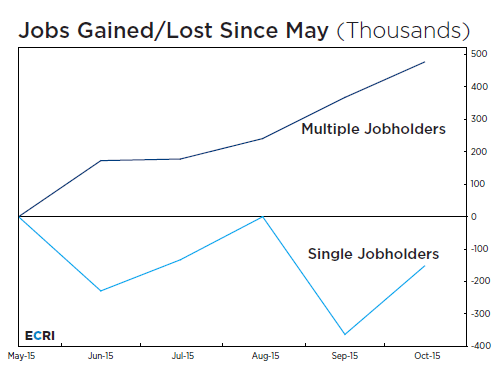 The household survey also posted strong gains, showing 320,000 jobs added. But a closer look at the details reveals why concerns remain about the health of the labor market.
Specifically, since May, household employment has increased by only 325,000 jobs, so the latest month accounts for almost all household jobs growth since then. Furthermore, since May the number of multiple jobholders increased by 477,000, while single jobholders actually lost 152,000 jobs. In other words, the one in 20 workers who hold down more than one job were responsible for 147% of the net job gains, while the ranks of single jobholders actually shrank. The disproportionate importance of multiple jobholders – forced to cobble together a living – shows why the labor market is weaker than it seems.
Notably, as long as these multiple jobholders log 35 hours of work per week — no matter how many part-time jobs that takes — they are considered full-time, highlighting the hollow victory of surpassing the pre-recession peak in "full-time" workers.