Wage Inflation Puzzle on Full Display
Lakshman Achuthan spoke with Reuters about the jobs report, weak inflation, and incoming Fed Chair Powell (see link below to watch on Reuters TV).
Today's jobs report was a bit disappointing for Wall Street, but generally okay with the three-month average jobs gain at 162K/mo.

For the central banks, however, their "puzzle" was on full display because wage growth remains weak, and is down to a 1½ -year low. Said another way, we're approaching generational lows in unemployment, yet wage inflation is falling. This flies in the face of how central bankers think the world works.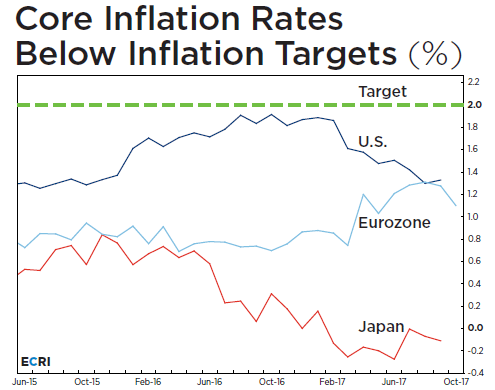 This is immediately obvious from the chart above that shows core inflation in the U.S., Eurozone and Japan rolling over, and well below their 2% targets marked off by the green horizontal line.
ECRI has been predicting this since the summer, and looking ahead it's not over. Midyear central bankers were having their "mission accomplished" moment, following the cyclical improvement in global growth and global reflation ECRI predicted in 2016. Jay Powell was front and center, saying that the "Accommodative policy … helped return inflation closer to our 2 percent goal. The current discussions of the normalization of monetary policy are a result of that success."

The chart shows U.S., Eurozone and Japanese core inflation, with the horizontal line marking their common 2% inflation target. After peaking earlier this year, core inflation has pulled back in every major economy, falling back well below the respective inflation targets.

Stay tuned to the cyclical leading indicators of inflation – incorporated in ECRI's future inflation gauges – which anticipated the inflation downturns seen here.
VIEW THIS ARTICLE ON REUTERS