Up is Down: Jump in AHE Growth Confirms Economic Slowdown
The original version of this report was released to ECRI clients on April 2014 -
Earnings growth has risen for an unfortunate reason: growth in hours has fallen faster than pay growth. The chart below shows income growth slowing, and growth in hours worked slowing even faster.

Contrary to popular belief, such a slowdown is not a credible signal of an inflation upturn. And if the jump in wage growth pushes the Fed to be more hawkish, it could actually worsen the slowdown.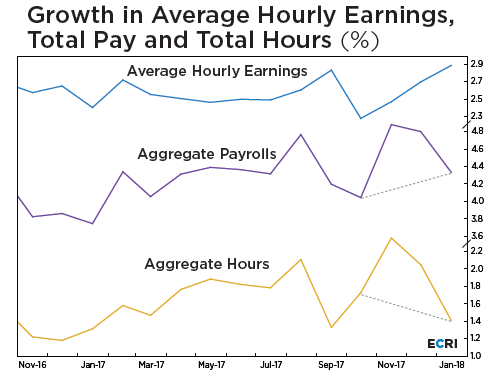 As we first publicly explained in May 2014, since AHE is the ratio of total weekly pay to total weekly hours, it's useful to look at the growth rates of each, shown in the lower panel of the chart (purple and gold lines, respectively), which tells the real story. Following the post-hurricane pop, year-over-year payroll growth has edged up, while yoy hours growth has actually fallen back to its lowest reading since January 2017, excluding its September low, which was due to the hit from the hurricanes. So, rising yoy AHE growth may seem like a good thing, but in this case it is actually confirms the slowdown in economic growth that's starting to take hold.

The bottom line is that the latest pop in overall AHE growth is not a sign of economic strength or inflation.