U.S. Long Leading Index: A Primer
The value of the ECRI's U.S. Long Leading Index (USLLI) lies in its ability to spot cyclical turns in the level of economic activity before conventional leading indexes. The USLLI is updated monthly and its historical data goes back almost a century, starting in 1919, demonstrating its durability through major structural changes in the economy.

USLLI growth leads turning points in the U.S. growth rate cycle, which consists of alternating cyclical upswings and downswings in economic growth. Thus, cyclical downturns in USLLI growth lead economic slowdowns, while USLLI growth upturns anticipate periods of accelerating economic growth.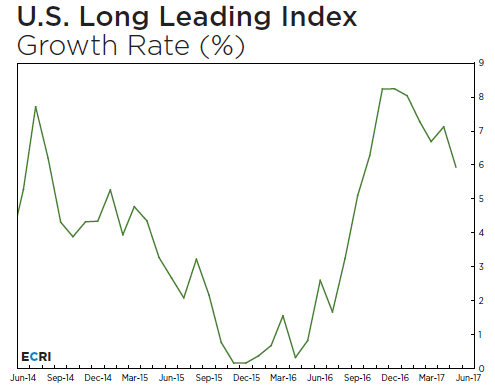 USLLI growth turned down in mid-2014, correctly warning of the slowdown that started at the end of that year. It then turned up at the end of 2015, accurately ruling out recession and forecasting the upturn in U.S. economic growth that began around mid-2016. Now the cyclical direction of USLLI growth has started to reverse. (June Release)

The USLLI is not based on an econometric model, but is rooted in a very different paradigm. It is comprised of leading indicators reflecting the fundamental drivers of the business cycle. Unlike econometric models, ECRI's indexes are not based on data-fitting, and do not need to be tweaked or adjusted to account for new data or events, as shown by nearly a century of historical data.

The USLLI is part of the ECRI framework that covers 21 economies, incorporating indexes designed to be comparable across borders.