Trump's Tax Cuts Won't Offset the Impending Slowdown
Market-oriented economies such as the U.S. are inherently cyclical, and there are warnings of a cyclical slowdown in 2018. Yet this view is at odds with the increasingly optimistic consensus that economic momentum, turbocharged by President Donald Trump's tax cuts, will sustain the upswing throughout the year.

The notion that momentum propels economic expansion -- and is therefore a good way to forecast growth -- is often valid away from cycle turning points. This is why extrapolating recent trends is a popular basis for forecasting growth. The exception, by definition, is at cyclical turning points, when momentum reverses. This is when gross domestic product consensus forecasts systematically exhibit their largest errors.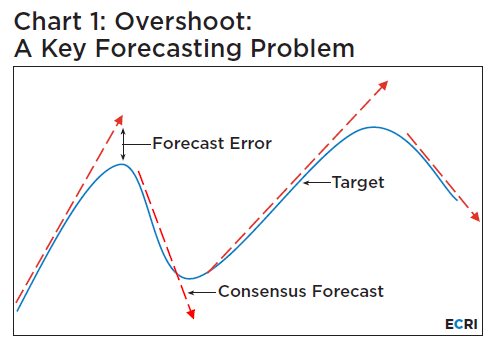 Good leading indexes are designed to signal when the risk of a turning point is high, or when some of the biggest GDP forecast errors are likely. Lately, growth in the Economic Cycle Research Institute's U.S. Short Leading Index, which we recently highlighted, has been "pointing to a U.S. growth rate cycle downturn." Prospects for a slowdown have not changed despite an even more upbeat consensus. In turn, this optimism has supported a record-breaking rise in stock prices to start the year.

The cheerful sentiment is driven by expectations the tax cuts will provide a lift not only to profits, but also to economic growth. But business investment growth in the year after tax cuts has actually been shrinking since the 1960s; President George W. Bush's tax cut was followed by less growth than occurred after President Ronald Reagan's tax cut, and even less than after those signed into law by President Lyndon Johnson. In any case, most estimates of the boost to overall growth from the Trump tax cuts in 2018 are in the range of some fraction of 1 percent of GDP.

Nevertheless, virtually everyone, including ECRI, agrees that the tax cuts will provide at least some economic boost, following the cyclical upturn during which year-over-year GDP growth probably doubled by the end of 2017 from the three-year low of 1.25 percent in mid-2016. The question is if tax cuts can offset the cyclical slowdown that is likely to follow.

Since the last recession, the U.S. has had three cyclical slowdowns, in 2010-11, 2012-13, and 2015-16. As the chart shows, those downturns typically reduced year-over-year GDP growth by a couple of percentage points.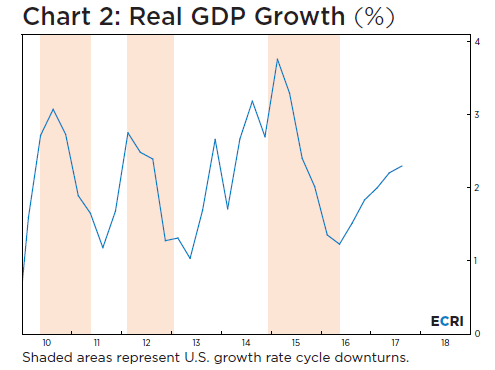 The point is that such slowdowns tend to cut GDP growth by quite a bit more than the expected gain from the tax cut.

Looking elsewhere, could the synchronized upturn in global growth help sustain U.S. growth momentum? In theory, yes, but ECRI's international leading indicators also point to slowing growth ahead.

In fact, the growth rate of ECRI's international long leading index -- which, a year ago, correctly proclaimed the "brightest global growth outlook since 2010" -- has turned down, delivering a clear message. Cyclical forces are in no position to sustain the synchronized global growth upturn that has gone on for more than a year.

Not that global growth has been providing a major tailwind for U.S. growth. Even with synchronized global growth in full swing in 2017, U.S. net imports of non-petroleum goods over the past 12 months were larger than ever.

Despite hopes that economic growth momentum from 2017 can be sustained through 2018, a slowdown is likely to take hold this year. Perhaps this is part of the message from bond market yield spreads. And even as tax cuts support growth, they will, at best, mitigate that slowdown -- a far cry from current expectations.
VIEW THIS ARTICLE ON BLOOMBERG