Reuters: Jobs, Wages & the Fed
See link below to watch the interview on Reuters TV.
The cyclical insight everyone (still) misses: in tight labor markets wage growth actually falls as economic growth rebounds, because hours worked rise faster than total pay. See chart tweeted this morning explaining the details.

The Fed minutes released this week reveal a fair amount of debate as they second-guess their Phillips curve framework. Some think it still works, and that they will fall behind the curve on inflation, while others extrapolate core inflation to guide their inflation expectations. Of course, ECRI doesn't use the Philips curve or extrapolate, which is why many follow our Future Inflation Gauge instead.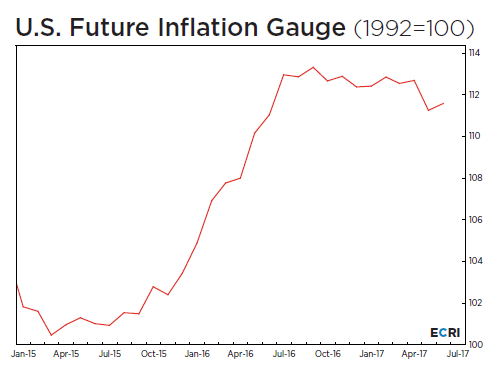 In fact, for those who think that today's economy somewhat resembles the late '90s, in that there's growth without inflation, please recall that the FIG correctly described that period, unlike the Phillips curve which failed. Fast forward two decades, and the FIG has started to turn down.

As you can see, the FIG was spot on in anticipating the "reflation" trade a year ago with this big run-up, and some viewers may even recall that inflation expectations were at pretty extreme lows at the time. Today, as the Fed and other central banks get hawkish, the FIG is starting to turn down, flagging a change in the direction of the inflation cycle that they are likely to miss.
VIEW THIS ARTICLE ON REUTERS