Interview: Jobs, the Fed & Cyclical Developments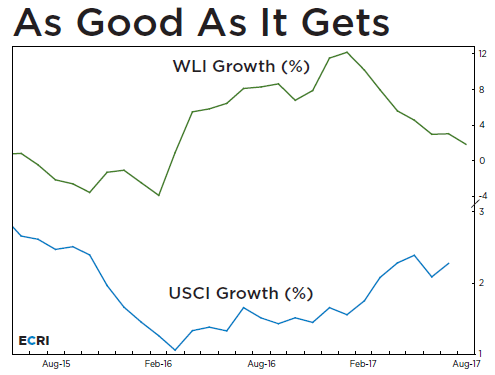 See link below to watch the interview on Reuters TV.
Since last year, ECRI has been saying that economic growth is in a cyclical upturn that began around the middle of 2016, and that upturn continues.

Today's report shows okay jobs growth, certainly stronger than labor force growth over time (some strength in goods production – manufacturing and construction – and a bit of weakness in services, especially leisure and hospitality, along with local government). And the jobless rate remains near 16-year lows.

The key takeaway is that the jobless rate will stay low, and even fall from here.

But wage growth has actually eased as the economy has improved, because growth in total hours has rebounded faster than growth in total pay, after ramping up during the earlier slowdown, when growth in total payrolls declined more slowly than growth in total hours.

When Anirvan talked with you last month, he said inflation has already turned down, and it too will keep falling.

The simultaneous downturns in unemployment and inflation will deepen the divide within the Fed.

To add to Fed's confusion, there's another key cyclical development now in play, and we have chart to help make the point.

Economic growth, which has been ramping up since mid-2016, is now about as good as it gets. And a fresh slowdown is now in clear sight.

See how the Weekly Leading Index (WLI) correctly anticipated the run up in the coincident data, including GDP. But WLI growth has clearly turned down and is now at a 17-month low.

The Fed really wants to hang onto the notion of "mission accomplished," allowing them to "normalize" monetary policy, meaning they'd like to hike rates further and begin to shrink their balance sheet. This is because, with the jobless rate low and their adherence to the Phillips curve, they really feel the urgency to tighten.

But as we've discussed, inflation has turned down, and won't cooperate with their plans. And now, overall economic growth will also start to ease.
VIEW THIS ARTICLE ON REUTERS