Interview: Jobs, Inflation & the Fed
See link below to watch the interview on Reuters TV.
International central bankers have been having their "mission accomplished" moment, following the cyclical improvement in global growth and global reflation ECRI predicted last year. After many years of extraordinary monetary stimulus, they have to say it's worked: they just want to claim victory and go home. But with inflation pulling back, they may have declared victory prematurely.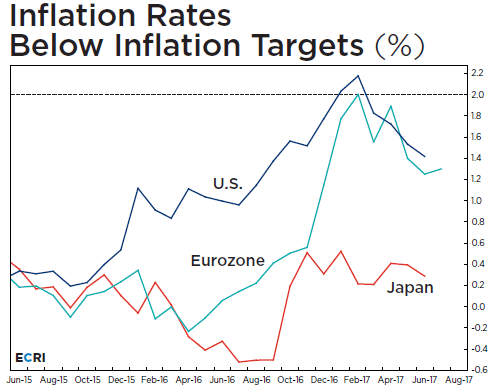 The chart shows U.S., Eurozone and Japanese inflation, with the horizontal line marking their common 2% inflation target.

As it shows, it's not a forecast, but a fact, that inflation is now falling in every one of these economies, despite super-low policy rates and massive liquidity injections.

In the U.S., over the past five years, the Fed's preferred inflation measure was above its 2% target for just two months – January and February 2017 – before rolling over (dark blue line).

In the Eurozone, since early 2013, yoy CPI inflation touched the 2% target in only one month – February 2017 – and then turned down (teal line).

In both cases, inflation is around the 1.3-1.4% range, well below the 2% target.

Japan is in a class by itself, with long stretches of deflation over the last two decades. But, despite Abenomics, inflation has stayed well below the 2% target for the past two years, and is now at just 0.3% (red line).

Bottom line: after peaking early this year, inflation has pulled back in every major economy, falling back well below the respective inflation targets. And G20 inflation is the lowest it's been since 2009.

Central banks like the Fed are misled by their belief that a lower jobless rate equals higher inflation, even though that Phillips curve theory has been broken for years. So they declare "mission accomplished" even as inflation starts to fall.

Meanwhile, the markets tend to extrapolate whatever's happened in the recent past – the rear-view mirror approach.

Instead, it's best to watch the cyclical leading indicators of inflation – incorporated in ECRI's future inflation gauges – which anticipated the inflation downturns seen here.
VIEW THIS ARTICLE ON REUTERS