Oil Price Plunge Foretold by Commodity Price Slide
The plunge in oil prices, which dropped below $50 this week, blindsided many businesses and investors. But the inevitable decline was foreshadowed months ago by a downturn in commodity prices, as measured by ECRI's Industrial Price Index (IPI) which was previously known as the JoC-ECRI Industrial Price Index*.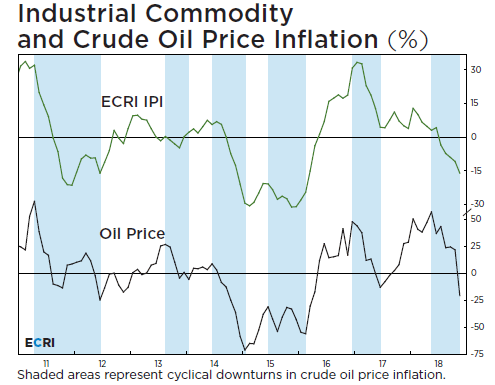 According to the IPI, industrial commodity price inflation turned negative in mid-2018 (top line in chart), three months before oil prices began their nosedive in early October.

That's no fluke. For decades, IPI growth has typically anticipated cyclical turns in oil price inflation with short lead times, and – as the chart shows – this pattern has persisted in the years following the Global Financial Crisis.

Oil price inflation has now plummeted to a 32-month low – its worst reading since early 2016 (bottom line). But industrial commodity price inflation, as measured by the IPI, has already dropped to a 33-month low, and is still falling (top line), signaling continued downside risk for oil price inflation.

Why is the IPI so prescient? What's the secret sauce?

A key reason the IPI is so different from other commodity price indexes is that about half the commodities it tracks aren't exchange-traded. So it isn't jerked around by speculative forces the way exchange-traded commodity prices – like oil prices – can be. Anchored by the prices of commodities that are less familiar but are also vital industrial inputs, the IPI provides a more reliable read of cyclical swings in broad commodity price inflation.

Importantly, the IPI isn't a stand-alone tool, and is best used in the context of ECRI's understanding of cycles in global industrial growth. In fact, we first forecast the current cyclical slowdown in global industrial growth more than a year ago.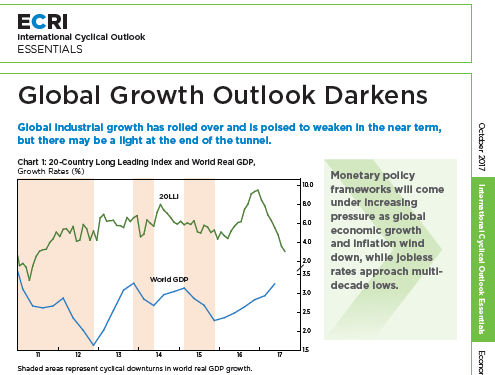 In contrast, with global purchasing managers indexes peaking around the same time as global industrial production growth this time, the consensus had no advance warning of the late-2017 downturn in actual global industrial production growth. Temporary run-ups in prices for some widely-watched commodities earlier this year contributed to the continued confusion.

Months after notifying our clients, around mid-year ECRI first publicly highlighted the unusual divergence between the prices of the "more closely watched exchange-traded commodities such as oil and copper" that had "spiked on tighter supply from outlier events such as sharp drops in Venezuelan production," and those of non-exchange traded commodities like hides and rubber that were in decisive downturns.
The market may soon start asking if global industrial demand is all it's cracked up to be. Read ECRI write-up: https://t.co/Pcw7ua3FCV pic.twitter.com/pIoXqGAYyQ

— Lakshman Achuthan (@businesscycle) June 28, 2018

In line with our forecast at the time, that divergence has now closed – with a vengeance.

Meanwhile, with the major central banks angling to begin or continue quantitative tightening (QT), it's essential to know if these global downturns will scuttle those QT plans. We will therefore closely monitor the IPI, especially in the context of longer leading indexes of global industrial growth, for the next shift in the global industrial growth outlook.
* The JoC-ECRI Industrial Price Index (IPI) was created in 1986 by ECRI co-founder Geoffrey H. Moore, who had pioneered the development of leading indexes of business cycles at the National Bureau of Economic Research.
The IPI is based on the prices of 18 industrial commodities tracked by the index, compiled every weekday by ECRI, which retains full ownership of the IPI.
The IPI does not include agricultural commodities or precious metals such as gold or silver, but only industrial raw materials, ranging from copper, nickel and aluminum to plywood, benzene, cotton and crude oil.
Notably, around half the IPI components are not "exchange-traded" commodities, which means their prices are not established in the world's commodity exchanges. This serves as a reality check on the prices of the other half, making the index less susceptible to the speculative moves often seen in exchange-traded commodity prices.