Jobs Report: Good & Bad News
This was a good news/bad news jobs report. The good news is that, for the first time this century, the jobless rate has a three handle, so in that sense it's a tight labor market. The bad news is that it dropped for the wrong reasons, with the household survey showing year-over-year job growth in jobs declining since September, and labor force growth falling back again after a post-tax-cut pop.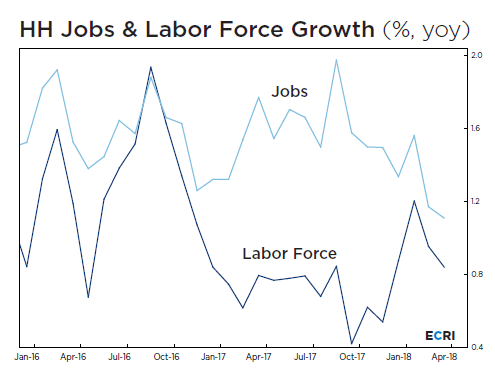 So 1.3 million people came back into the labor force in January and February, but almost a third of them left it in March and April, meaning that some who lost their jobs aren't looking for new jobs, and some of the jobless stopped looking.

The labor force participation rate was at 67% when the jobless rate last had a three handle, and at 66% when the recession began, but for the last four years it hasn't been able to crack the 63% ceiling , and fell back again in the last two months.

The bigger issue is that – as the chart shows – job growth has been slowing following the post-hurricane pop, and that's in line with the broader slowdown in economic growth we've been flagging for months. Labor force growth is just resuming its downturn.

Now here's the problem: we have a Fed looking at a tight labor market, with a 17-plus-year low in the jobless rate, and set to keep hiking rates in the face of an economic slowdown. That rarely works out well for the economy.

We see this because, as is often the case, ECRI has a completely different take on things, being laser-focused on cyclical dynamics rather than what some econometric model is saying.

And the slowdowns in job growth and labor force growth fit with what we see, which is that economic growth is slowing. It also fits with the global slowdown now underway that ECRI warned about last fall, with the consensus playing catch-up.

Click here to review ECRI's track record, including client report excerpts.

For more information on ECRI professional services please contact us.
VIEW THIS ARTICLE ON REUTERS