Jobs, Inflation & the Fed
See link below to watch the interview on Reuters TV.

Headline jobs growth came in well below expectations, and weather played some part in suppressing job growth, both in construction and retail.

But the jobless rate dropped to 4.5%, its lowest reading since 2007, so the Fed's "full-employment" mandate has been met.

Their other mandate is on inflation, and over the past year I've discussed our U.S. Future Inflation Gauge, which anticipated the inflation cycle upturn shown by the chart. Today the forward looking USFIG remains near an 8¾ -year high.

The chart shows the year-over-year PCE inflation rising sharply to a 5-year high, and breaching the Fed's 2% inflation target which is defined by this inflation measure.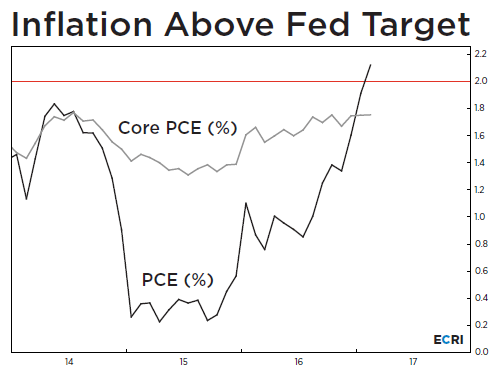 For those who might think this is just about oil prices, please note that core PCE inflation, ex-food and energy, has also been rising, and now above 1¾%, the highest reading in over 2½ years.

This is what a cyclical upswing in inflation looks like.

Moreover, the U.S. economy has a good tailwind from rising global growth.

All of this helps explain why the Fed is finally able to implement a full-fledged rate hike cycle.
VIEW THIS ARTICLE ON REUTERS