Jobs Data in Cyclical Perspective
See link below to watch the interview on Reuters TV.

The market is somewhat surprised by this healthy jobs report that fits with the upturn in overall economic growth that we've been discussing with you for months now.

The Fed's "full-employment" mandate has been met, and this morning's update on ECRI's Future Inflation Gauge (FIG) shows that underlying inflation pressures haven't retreated.

A key example of the upturn in overall growth is shown by consumer spending growth, and we have a special leading index to share with you today that we haven't shown on-air before.

The bottom line of the chart shows real (inflation adjusted) retail sales growth has been picking up since last spring. The middle line shows broader real consumer spending growth has also been picking up over the same time frame, but more gently, and is hovering around 3%.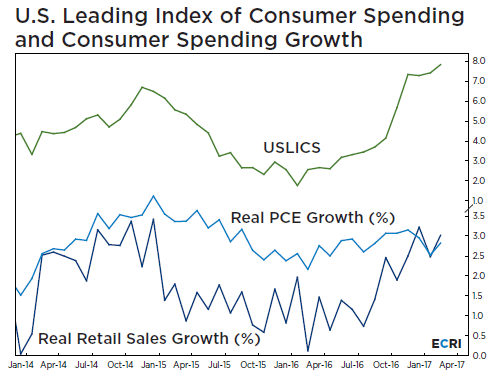 Having anticipated all of this, our U.S. Leading Index of Consumer Spending (USLICS), the top green line, suggests that those upturns in consumer spending are not over yet.

Moreover, the U.S. economy has a good tailwind from rising global growth, so cyclical prospects haven't been this strong in many years. That is why the Fed is finally able to implement a full-fledged rate hike cycle, and their statement this week – that the GDP growth slowdown is transitory, and inflation remains near their target – shows that they agree with ECRI.
VIEW THIS ARTICLE ON REUTERS