Jobless Rates Show Cyclical Revival, Structural Slack
Joblessness hasn't been lower since before the Great Recession, underscoring the cyclical recovery in the labor market. That's the message from both the "official" U3 jobless rate and the so-called "real" jobless rate U6, which captures some of the additional labor market slack.

The U6 measure includes those not actively looking after failed job searches in the past 12 months, as well as people who have given up looking altogether as don't think they'll ever find a job. It also includes those with part-time jobs because they can't find full-time work.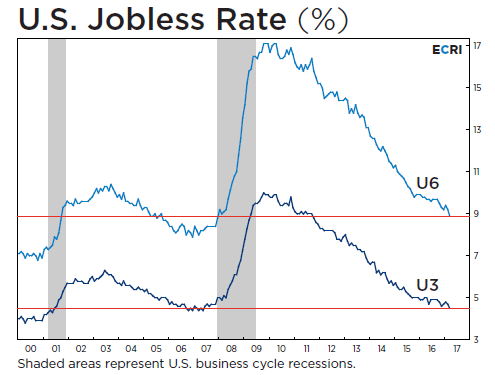 This does not negate the labor market weakness revealed by the stubbornly depressed labor force participation rate, which reflects long-term structural problems. But, as the chart shows, the jobless rate has rarely been this low in the 21st century, indicating the very real cyclical revival.