Jobless Rate Consistent with Slowdown
In addition to business cycles, at ECRI we have long monitored growth rate cycles, which are defined as alternating periods of accelerating and decelerating economic growth. We closely monitor growth rate cycle (GRC) ups and downs using our proprietary coincident and leading indexes.

While we predicted an impending slowdown in U.S. economic growth last year, the consensus is still complacent, in part because the unemployment rate remains at its lowest reading since late 2000. However, a closer look at the three-decimal jobless rate tells a different story.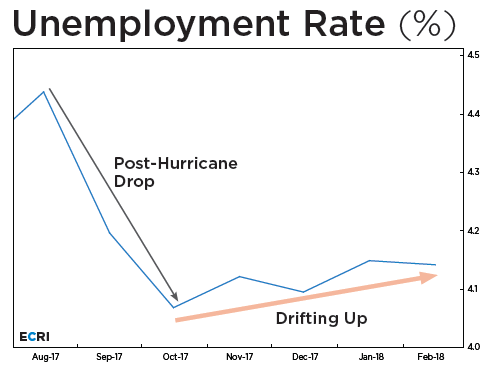 The unemployment rate tends to flatten out around GRC downturns, i.e., when the economy decelerates. As the chart shows, the unemployment rate – following a two-month post-hurricane drop – has actually been drifting upward.

This pattern is inconsistent with a booming or accelerating economy. Rather, it seems to conform to the economic slowdown that we were virtually alone in predicting late last year. Still, since labor force growth averaged just 72,000 people per month in 2017 – half of what it was in 2016 – it should not take much job growth to lower the jobless rate. These are important insights for those assessing the Fed's next moves, as it speaks to the odds of the jobless rate going much further below the Fed's estimate of "full employment."

Click here to review ECRI's track record, including member report excerpts.

For more information on ECRI professional services please contact us.