Jan '17 Flashback: Bond Bears Will Be Blindsided
"Those declaring that the 35-year bond bull market has ended are conflating structural shifts and cyclical forces that could blindside them in the coming months." For an excerpt of our January 2017 report, click here.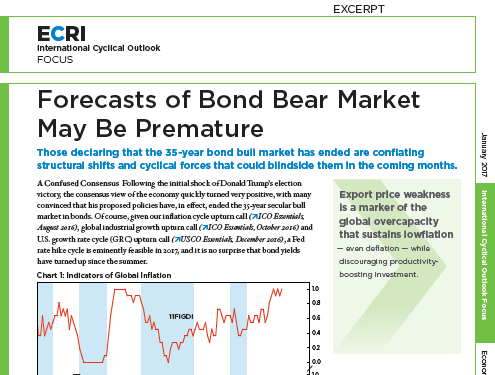 Following the initial shock of Donald Trump's election victory, the consensus view of the economy quickly turned very positive, with many convinced that his proposed policies had, in effect, ended the 35-year secular bull market in bonds. Of course, given our inflation cycle upturn call (ICO Essentials, August 2016), global industrial growth upturn call (ICO Essentials, October 2016) and U.S. growth rate cycle (GRC) upturn call (USCO Essentials, December 2016), it was no surprise to us that bond yields had turned up since the summer, although our reasoning was quite different.

For the 35-year bond bull market to be truly over, the long-term structural forces underpinning the secular decline in yields would need to fundamentally change, and we definitively knew they had not. Rather, the increase in yields since summer 2016 had been driven primarily by cyclical forces, which, by their very nature, could reverse direction in a relatively short time frame.

Our analysis clearly demonstrated that the structural picture had not changed materially, and was unlikely to do so for years. While the cyclical outlook was quite favorable at the beginning of 2017, we saw "potential clouds on the horizon."

Cyclical Forces in Action

Recall that in early 2016 and again that summer, deflation became a major concern in many advanced economies, but ECRI pushed back, starting with the U.S. inflation outlook (USCO Essentials, March 2016), and then with the global inflation outlook in the summer (ICO Essentials, August 2016), when we declared that cyclical inflation pressures were on the rise.

In the summer of 2016, our global inflation upturn call (ICO Essentials, August 2016) was based on the upturn in ECRI's 11-Country Future Inflation Gauge Diffusion Index (11FIGDI), which, according to an updated analysis in January 2017, hit its maximum reading of 1.0 (Chart). Our conclusion was that the upturn in global inflation pressures was not only pervasive but also relatively pronounced. Following the 11FIGDI upturn, the 11-Country CPI Growth Diffusion Index (11CPIGDI), which is the proportion of those economies where CPI inflation has risen over a one-year span, entered a cyclical upswing (see bottom line of chart here). Given the continued strength in the 11FIGDI, we expected the 11CPIGDI to rise further.
More recently, in mid-2017, the major central banks had their "Mission Accomplished" moment but, as described above, the revivals in economic growth and inflation prompting this self-congratulatory behavior had been anticipated the previous year by ECRI's cyclical leading indexes of economic growth and inflation. More importantly, by mid-2017 those same cyclical forces had reversed direction, a case in point being the cyclical downturn in the U.S. Future Inflation Gauge (USFIG), on the basis of which we concluded that, "Regardless of the decline in the jobless rate, the inflation cycle is turning down."
The current inflation cycle downturn is again driven by cyclical forces that have now blindsided the bond bears, just as we had foreseen back in January.