Interview on Jobs & Global Growth
This was a good month-on-month jobs report, with broad-based job gains in February. In and of itself that's good news.

The fly in the ointment is that the unemployment rate didn't fall.

In fact, the jobless has been stuck at 4.1% for five straight months, and the three decimal version has actually been drifting up since October.

The market has this story line of strengthening growth in the U.S. and abroad, which is creating lots of jobs.

But the unemployment rate is not playing along – and that even though the jobs growth needed to lower the jobless rate is really low, just half of what it was in 2016. So, as Sherlock Holmes might say, this flat jobless rate is the dog that didn't bark.

As is often the case, ECRI has a completely different take on things, because we are laser-focused on cyclical dynamics rather than what some econometric model is saying. The unemployment rate flattening out fits with what we see when economic growth is starting to decelerate.

The global slowdown I predicted on your show during my last couple of visits is just starting to show up in research notes from Wall Street. ECRI's global growth downturn call was based on our 20-country long leading index, which has an excellent track record. Most don't realize is that this is no longer a forecast, but is now a fact. As the chart shows, all three slowed in Q4 – that's what a synchronized global growth downturn looks like.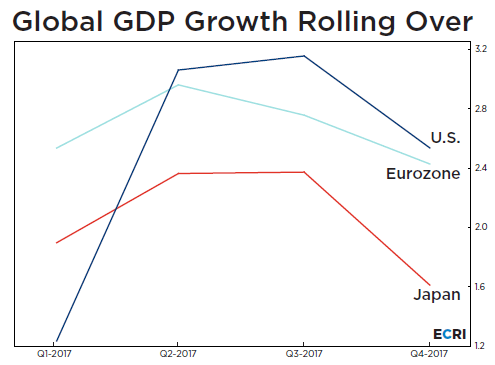 But groupthink on the synchronized global growth -- like what we saw at at Davos -- is so strong that nobody seems to have noticed Korea's GDP contracted in Q4 for the first time since the GFC -- in part because their exports saw its biggest plunge in 33 years.

Turning to Central Banks, last week we got to hear Jay Powell as Fed Chairman for the first time, with a slightly more hawkish tone than expected, predicated in part on global growth staying strong this year. Mr. Kuroda followed up with his remarks about exiting QE in Japan.

In sum, last fall ECRI warned about the global slowdown now underway and the consensus is playing catch-up, while Central Banks continue to lag behind, mistaking last year's synchronized upturn for a structural shift toward a "normal" economy.

Click here to review ECRI's track record, including member report excerpts.

For more information on ECRI professional services please contact us.
VIEW THIS ARTICLE ON REUTERS