Interview: Deglobalization and the Fed
Building on our earlier slowdown call, the incoming data has made the market begin to acknowledge that the economy is not as strong as expected – that's the critical backdrop for the market jitters.

Regarding the rise in yields, it's really about inflation fears. The 2-year, which is already around 2½%, reflects the Fed's evident resolve to keep hiking rates through next year as they react to those inflation worries. The awkward reality, however, is that economic growth is slowing, and the Fed is either in hiking or easing mode, and they've chosen the former despite a slowdown in growth.

Remember that in June 2008, half a year inside the Great Recession, fed funds futures were expecting over 100 basis points of rate hikes by year end.

Regarding trade, President Trump has argued that the key to an economic revival at home is reversing our massive trade deficits, mainly with China.

But there's actually been a staggering expansion in the non-petroleum trade deficit. And with both China and Mexico, our non-petroleum goods trade deficit has never been higher over any 12-month period in history.

Most people would blame all that on "globalization," but they're mistaken.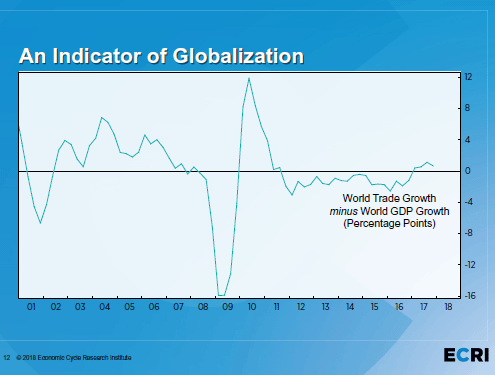 Globalization implies faster growth in trade than in GDP. Therefore, ECRI's measure of globalization is the difference between the growth rates of world trade and GDP.If this measure is positive, more globalization, and if it's negative, less globalization.

Following the 2001 recession the chart shows a sustained period when trade was growing much faster than GDP for half a decade. That is globalization, something ECRI called the "globalization tsunami" at the time.

Following the initial rebound from the global financial crisis, however, the chart shows a sustained period when this measure was negative, meaning trade was growing slower than GDP for half a decade. That is de-globalization.Yet, people don't know that structurally, de-globalization has been underway for years.

That's because the aftermath of the post 2001 globalization tsunami is still roiling the labor markets -- and the politics -- of Western economies.

Lately there's been a lot of hope about the recent synchronized global growth resulting in some sort of "normalization." But aside from the sustained structural shifts, there are also shorter-term cyclical ups and downs in this measure.

The right side of the chart shows that last year trade did grow a tad faster than GDP, but that's not "normalization." In fact that recent downtick is significant because our Leading Index of Global Growth has already turned down decisively.

Click here to review ECRI's track record, including member report excerpts.

For more information on ECRI professional services please contact us.
VIEW THIS ARTICLE ON BLOOMBERG