International Inflation Cycles Sync Up
We recently introduced the International Long Leading Future Inflation Gauge (ILLFIG), designed to be a long leading indicator of the international inflation cycle, which is a relatively new feature of the international economy. The ILLFIG leads the international inflation cycle by a little over half a year, on average, and is used in sequence with the 11-Country Future Inflation Gauge.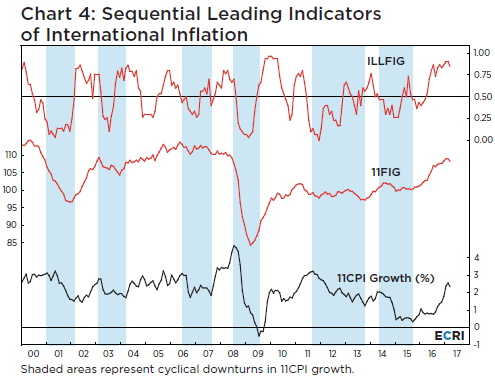 The synchronization of international inflation cycles highlights the importance of global factors in assessing domestic inflation prospects. Our analysis underscores the 21st-century reality that the timing of inflation cycles may be beyond the control of any individual central bank. Yet this very development makes it possible for ECRI to provide even earlier signals of peaks and troughs in the inflation cycle.
For the full report with charts in a printable PDF click here.