Inflation Cycle Locked Into Downturn
In June, when international central bankers were enjoying their "mission accomplished" moment, ECRI warned that the "Fed risk[ed] being blindsided by a cyclical downturn in inflation." That downturn is now amply evident in the inflation data (chart).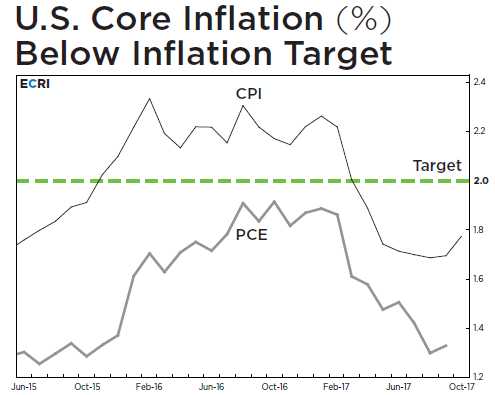 Back then, we predicted that a "falling jobless rate and the Fed's faith in the Phillips curve will keep it under pressure to raise rates until a cyclical downturn in inflation becomes undeniable." We went on to forecast that the "Fed will be belatedly surprised by the ongoing inflation cycle downturn." As we declared publicly, "Regardless of the decline in the jobless rate, the inflation cycle is turning down." Indeed, that's just what has come to pass (see below).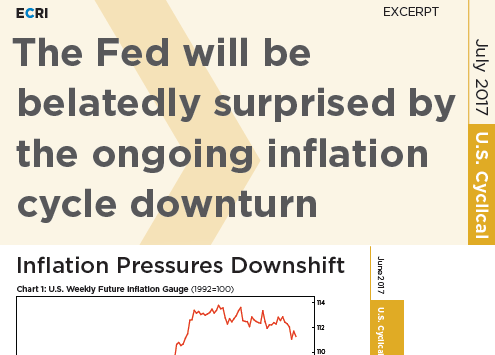 Incoming Fed Chairman Jay Powell was in full agreement with his central bank colleagues in June, declaring that "Accommodative policy … helped return inflation closer to our 2 percent goal. The current discussions of the normalization of monetary policy are a result of that success."

Having prematurely declared victory, policymakers find it hard to accept that, with the jobless rate at a nearly-17-year low, inflation remains in retreat. What they don't understand is that, once again, their rate hike plans are on a collision course with the economic cycle.
"Eventually, of course, the inflation cycle will turn back up," we wrote in July "But it is the USFIG – not the Phillips curve – that will provide early warning of that directional shift." This is why the USFIG bears watching in the months ahead.
For more information on ECRI professional services please contact us.