Flashback: Declining Productivity in Construction
In the two key sectors of the economy where President Trump has promised to create "good jobs" – manufacturing and construction – productivity has actually been falling. Because manufacturing, in particular, had spearheaded productivity increases in past decades, we share the roots of this reversal, whose continuation would doom the prospects for a more sustained revival in economic growth.

Nonfarm productivity grew at an average of only ½% per year over the last six years – "quite a comedown from the 2¼% average for productivity growth over the six decades preceding the Global Financial Crisis" (GFC). In fact, the manufacturing and construction sectors are primarily responsible for the sharp deterioration in productivity growth, according to ECRI's own calculations.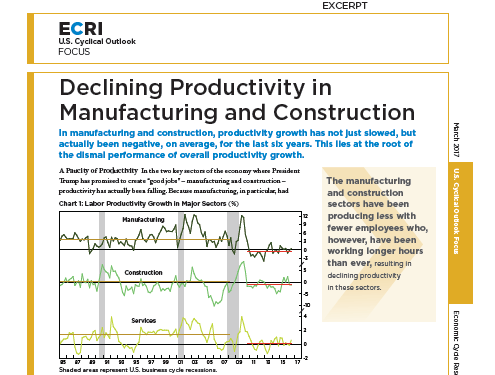 As the chart shows, in the six decades preceding the GFC, productivity growth averaged 3.7% in manufacturing and 0.4% in construction, while having averaged 1.4% in services since the mid-1960s (horizontal gold lines). It has since dropped sharply, averaging -0.4%, -1.0%, and 0.1%, respectively, over the last six years (horizontal red lines). The downshifts are especially dramatic in manufacturing and construction.

The level of manufacturing productivity had stayed in a long uptrend, actually surging after the 2001 recession as the globalization tsunami decimated manufacturing jobs (International Cyclical Outlook, February 2004). However, following a small pop after the Great Recession, it declined a bit through 2012 before flattening out, while still staying below its 2010 high – a dramatic change in its trajectory.

Construction sector productivity has also been declining in recent decades, falling sharply since 2004 in the wake of the housing bust. It fell even further after the end of the Great Recession, and remains close to the 51-year low seen in 2008.

Productivity is defined as output produced per hours worked. So, productivity growth occurs either when output increases faster than labor hours or when labor hours decreases faster than output.

Real value added in manufacturing had stayed in a steady six-decade uptrend until the Great Recession. Since then, it has been basically flat and, although it has slowly improved, remains slightly below its 2007 high. In contrast, value added in construction rose rapidly until the mid-1960s, stagnated until the early 1980s, and then increased at a relatively moderate pace until the peak of the housing boom before plunging in the years around the Great Recession. It has since recovered somewhat, but is still well below its 2005 high.

Clearly, the downshift in value added, especially since the Great Recession, is key to the pattern of falling productivity in these two sectors. In other words, to reverse the massive decline in output during the Great Recession, output would have had to rebound much faster, allowing productivity to hold up. But it has done the opposite, with output growing much slower than its pre-recession average.

Aggregate hours worked is the product of employment and average weekly hours in each sector. But hours worked in both manufacturing and construction remains well below their earlier highs, as employment has not fully recovered to pre-recession highs in either sector, especially in manufacturing.

However, average weekly hours in both manufacturing and construction have risen sharply, and remain near record highs, being far above what was seen around the housing boom in construction and higher than the average in the 1990s economic boom in manufacturing. In other words, the manufacturing and construction sectors have produced less with fewer employees who, however, have been working longer hours than ever, resulting in declining productivity in these sectors.

Digging deeper into why this has been the case, we conclude that the circumstances are not conducive for a sustained boost to productivity growth in manufacturing and construction, the key sectors where President Trump has promised to create well-paying jobs. Indeed, neither the construction sector's productivity problems nor the rampant manufacturing overcapacity are amenable to federally-driven solutions (USCO Focus, March 2017).