All Signs Point to a Cyclical Slowdown in Inflation
The inflation debate among Federal Reserve policy makers comes down to peering through a mud-caked windshield to figure out what's ahead, or being guided by looking in the rear-view mirror. But a third option, the U.S. Future Inflation Gauge, cuts through the confusion and has a solid track record of providing turn-by-turn directions to the road ahead like a GPS.

Traditionalists on the Federal Open Market Committee who place their faith in the Phillips curve worry that, with the jobless rate below the Fed's estimate of "full employment," the central bank will fall behind the curve on inflation if it stops tightening. Others argue that the Phillips curve has stopped working. They prefer the rear-view mirror approach, extrapolating core inflation, which is by definition a coincident indicator of inflation, to guide their expectations of future inflation. That methodology never foresees turns in the road ahead, instead projecting a straight extension of the road just traveled.

Some history is helpful. Following the first interest-rate hike in the 1994-95 tightening cycle -- which produced a "soft landing," thanks to the only pre-emptive moves by the Fed in recent memory -- then Fed Chairman Alan Greenspan endorsed the work of Geoffrey H. Moore in his congressional testimony. The Wall Street Journal described Moore as "the father of leading indicators," whose work on inflation is the basis for our firm's U.S. Future Inflation Gauge, or FIG. Justin Martin's biography of the former Fed chairman noted that the FIG "would prove to be one of Greenspan's favorite indicators."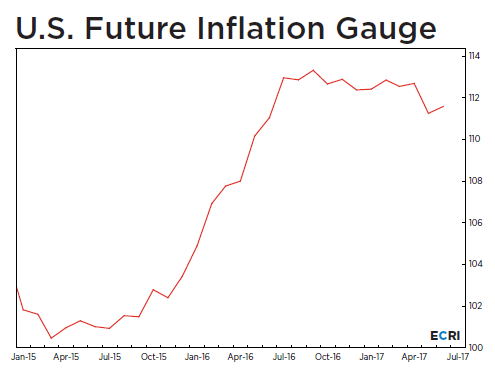 For those who think that today's economy somewhat resembles that of the late 1990s, featuring growth without inflation, we'd point out that the FIG correctly anticipated that unusual combination of circumstances, which the Phillips curve failed to foresee. Rather than using the Phillips curve or extrapolating recent inflation data, the FIG leads cyclical upturns and downturns in inflation by tracking underlying cyclical inflation pressures -- in essence, the co-movement of cyclical leading indicators of inflation.

The news today is that even as the Fed and other central banks get more hawkish the FIG is starting to turn down, flagging a change in the direction of the inflation cycle that the Fed is likely to miss. Skeptical? The big run-up in the FIG a year ago was spot on in anticipating the reflation trade, at a time when inflation expectations were near multiyear lows. Inflation expectations then ran up with the reflation trade through the beginning of this year, falling in line behind the upswing in the FIG.

As for wage growth, most still remain confused as to why in a tight labor market it's logical to see nominal wage growth rising when economic growth decelerates, and falling when it accelerates. Moreover, wage inflation typically lags CPI inflation at cyclical troughs and leads it at peaks. Given that dynamic and the ongoing cyclical downswing in the FIG, wage inflation is unlikely to see significant gains in the months ahead.
The FIG is clearly signaling a fresh cyclical downswing in inflation, which is being obscured, ironically, by the dip in inflation due to so-called idiosyncratic factors such as the declines in wireless phone service and prescription drug prices. The bottom line: Regardless of the decline in the jobless rate, the inflation cycle is turning down.
VIEW THIS ARTICLE ON BLOOMBERG