EM: From Ugly Ducklings to Swans
As the Trump triumph triggered an investor flight from emerging markets, ECRI presented a radically variant view, declaring that emerging economies would actually outshine advanced economies. Since we released that report to our members in late November, the prices of Emerging Market (EM) stocks have risen one and a half times as much as those of Developed Market (DM) stocks.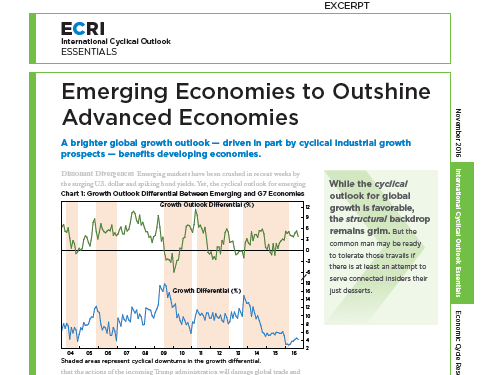 Amidst the fear and loathing that followed the Trump election victory and the second Fed rate hike in a decade, emerging markets were widely perceived to be the losers. This aversion was a knee-jerk reaction, due to both the harsh political rhetoric about trade and the presumed impact of higher U.S. rates.

Obscured were the powerful cyclical forces driving global growth, which were crystal clear from ECRI's wide array of international leading indexes. As we concluded, "A brighter global growth outlook — driven in part by cyclical industrial growth prospects — benefits developing economies."

Today the erstwhile "ugly-duckling" emerging markets are being widely hailed by the consensus as beautiful "white swans," now that their outperformance is self-evident. Meanwhile, we continue to keep a close eye on ECRI's Emerging Markets Long Leading Index, as well as our G7 Long Leading Index, for early clues to the timing of any reversal in the current cyclical dynamic.