Cyclical Outlook Good, But Sustained 3-4% GDP Growth Unlikely
Interview summary:

· With the Weekly Leading Index growth (showing where things are headed) turning up well before the election, and remaining in a decisive uptrend (chart, top line) the current upturn in economic growth – which began months ago – will continue. GDP growth (the economy outside your window) is already ticking up (bottom line). This is a 180 degree change from a year ago.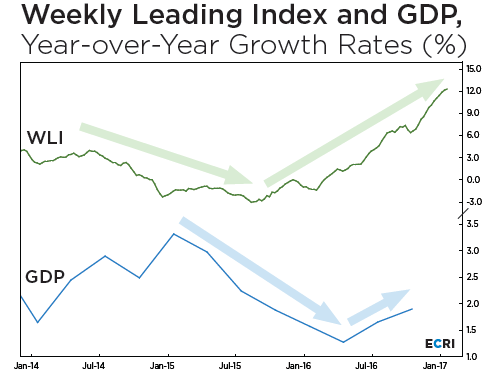 · The sustained 3 to 4% GDP growth promised by the Trump administration is questionable, since the math just doesn't add up. For years, ECRI has highlighted the simple math: potential GDP growth = potential labor force growth + productivity growth. But potential labor force growth is basically set in stone at ½% a year for the next 5-10 years; and productivity growth has averaged ½% a year for the past six years, adding up to 1% percent a year potential GDP growth. For perspective, we'd need double the productivity growth of the Reagan years to achieve the promised 3 – 4% potential GDP growth.

· The bulk of expected labor force growth comes from legal immigration (about 1 million people a year), without which labor force growth would fall below 0.2% a year, and potential GDP growth to 0.7%. Removing a million undocumented immigrants per year would have the same effect.