Cyclical Forces Pressuring the Fed
Q: Will there be a December rate hike?

A: If the Phillips curve remains dominant in Fed thinking, then yes. But we all know it hasn't worked in years.

What does work is the Future Inflation Gauge (FIG), a cyclical leading indicator of inflation. Over a year ago it correctly nailed the reflation call when markets were worried about deflation. Then it turned down, anticipating the 2017 inflation downturn that has so many flummoxed, including Janet Yellen.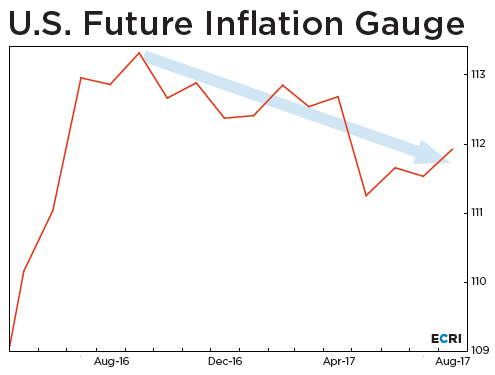 Q: What will the Fed be able to do?

A: The Fed has been able to implement a succession of rate hikes when the cycles in economic growth and inflation have been trending up, but not otherwise. So in 2015, there was one December rate hike, but no more. In 2016, with growth and inflation cycles up, a December hike was followed by March and June 2017 hikes. Today, the inflation cycle has turned down, and growth is likely to decelerate from here. Maybe they can push through another hike in 2017, but it's going to get tougher.

The key question is, will inflation recover towards the Fed's target in the coming quarters? We expect it to stay down. Because the FIG is well off its highs, the inflation cycle isn't about to turn up anytime soon.

Q: How does ECRI view the confusion around inflation and Fed policy?

A: Some want a preemptive strike against inflation because the jobless rate is so low, and the Phillips curve is screaming inflation. Others think today is like the late 1990s' noninflationary growth; if so, the Fed shouldn't tighten policy.

ECRI monitors leading indicators of the inflation cycle, specifically the FIG, which – unlike the Phillips curve – worked in the 1990s and is working today.
A generation of economists has grown up thinking that preemptive monetary policy is about the Phillips curve, but the only successful example of a preemptive tightening and easing was actually based on the FIG, in the mid-1990s. Then, in the late 1990s, as the economy boomed and the Phillips curve pointed to higher inflation, Greenspan didn't tighten, again in line with the FIG.

Q: What is the economic outlook?

A: The good news is that, at least through early next year, there's no recession in sight. But overall growth is already about as good as it gets, and will decelerate from here.
VIEW THIS ARTICLE ON CNBC