Worst Home Price Outlook Since 2009
ECRI's home price downturn call is based on the growth rate of our U.S. Leading Home Price Index (USLHPI), which has now nosedived to its worst reading since 2009.
The USLHPI – which is specifically designed to predict home price cycles, spotting directional shifts well before conventional methods – is telling us that a home price downturn is much more than a possible risk. That's because the objective process that ECRI internally calls "three P's" has delivered a resounding yes to the question of whether USLHPI growth is in a fresh cyclical downturn.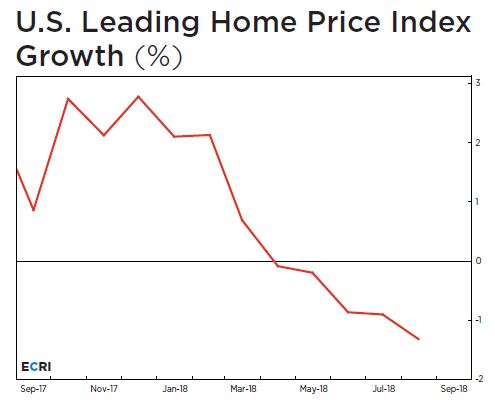 The current cyclical downturn in USLHPI growth is as pronounced as in its typical past downturns that anticipated cyclical downswings in home price growth (Chart). In addition, the decline across USLHPI inputs is even more pervasive than is typical in comparable past home price growth downturns. Finally, the downturn in its growth rate has been more persistent than on average in prior cycles.

In other words, we have a quintessential signal of a cyclical downturn in USLHPI growth.

Click here to read our Bloomberg Opinion piece on this subject.