Upside for Industrial Commodity Inflation
On mobile, click here to view video interview.

Industrial commodity price inflation, which is still pretty beaten down, is starting a cyclical upturn.

We know this because we're tracking cycles in global industrial growth, which is a key driver of industrial commodity prices.
In Sept. 2019 we alerted clients: "nascent upturns in ECRI's forward looking indicators of global industrial growth are taking shape," with continued implications for the global PMI and commodity price inflation. More 2019 client calls here: https://t.co/L45TvYPSRN pic.twitter.com/7aFdO5AIDi

— Lakshman Achuthan (@businesscycle) December 24, 2019

Our global industrial indicators are able to anticipate cycle turns well in advance, so we already know that this nascent upturn in the ECRI Commodity Price Index is much more than noise.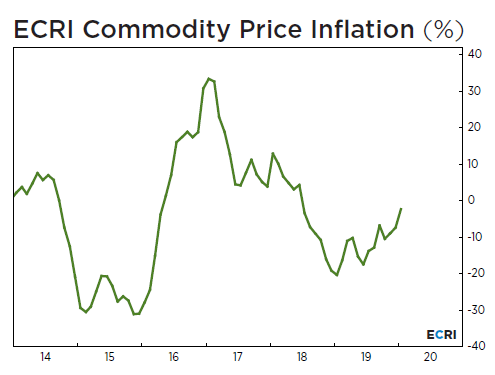 In fact, it's the beginning of a cyclical upturn in industrial commodity price inflation. Broadly speaking, global industrial companies are starting to have the wind at their backs.

This call is the flipside of what we shared with CNBC in June of 2018, when we were flagging the cyclical downturn in commodity price inflation, which was linked to the global industrial slowdown that most missed.
The latest oil price spike may turn out to be a head-fake, because the global economy is already slowing. #OPEC https://t.co/HW0nn1EZAK pic.twitter.com/dKRePCvSLZ

— Lakshman Achuthan (@businesscycle) June 26, 2018

Recall that in the summer of 2018 the big guns in the bond market were pounding the table on the bond bear market because they didn't see any downturns. And, of course, the Fed also went forward with two more rate hikes that year in the mistaken belief that everything had normalized, setting up the need for the Powell Pivot.

This analysis is based on a long, real-time track record of accurate calls that were fairly out-of-consensus at the time they were made.

For information on our professional services please contact us.

Follow @businesscycle on Twitter and on LinkedIn.