Construction Crumbling
A cyclical downturn in construction sector growth is underway, and set to intensify. We know this from monitoring leading indexes specific to major sectors of the economy, whose distinct cyclical swings can precede those in the overall economy.

Notably, growth in ECRI's U.S. Leading Construction Index (USLCI) has tumbled to a 2½-year low (top line).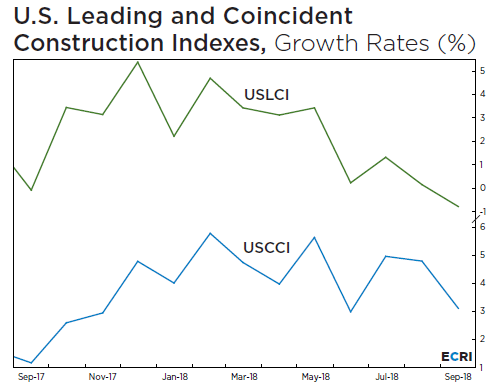 Following the earlier downturn in USLCI growth, U.S. Coincident Construction Index growth has also rolled over. Indeed, it has fallen to a three-month low (bottom line), and is poised to weaken further.

The decisive deterioration in the construction sector outlook has occurred in the context of the worrisome downturn in U.S. Leading Home Price Index growth, which has dropped to its worst reading since 2009.
A home price growth downturn is much more than a "possible" risk. See #ECRI U.S. Leading Home Price Index report: https://t.co/wBW4HGmVJA pic.twitter.com/3XilwXzj0P

— Lakshman Achuthan (@businesscycle) October 15, 2018

A key problem is that as home prices have increased in recent years, earnings have not kept pace. With mortgage rates spiking up of late, "housing affordability is the worst it has been in around a decade" (USCO Focus, September 2018).
There's demand for homes, but prices are increasingly out of reach https://t.co/8cLPJWmj9b pic.twitter.com/ibQvVoUMkT

— Bloomberg Opinion (@bopinion) October 16, 2018

It is well known that housing is highly cyclical, with material consequences for broader economic prospects. Thus, the near-term economic growth outlook remains adverse.

Can information like this help your business? Contact ECRI to see how cycle risk management can become part of your decision process.