The Elephant in the Room Forcing the Fed Rate Cut
Many in the consensus regard the widely-expected Fed rate cut as unnecessary. Yet, the elephant in the room remains the inflation cycle downturn that leaves the Fed with little choice but to cut rates.

This is because Fed officials believe they need to cut rates now to boost inflation while economic growth is still good. As Fed Chairman Jerome Powell recently stated, they wish to avoid the trap that Japan has fallen into and now confronts the Eurozone, where "lower expected inflation gets baked into interest rates, which means lower interest rates, which means less room for the central bank to react" when recession threatens.

The early-2018 downswing in ECRI's U.S. Future Inflation Gauge (USFIG) predicted the current inflation cycle downturn. But this downturn was missed by most – including the Fed, which hiked rates last September and December after we warned of the downside risk for inflation.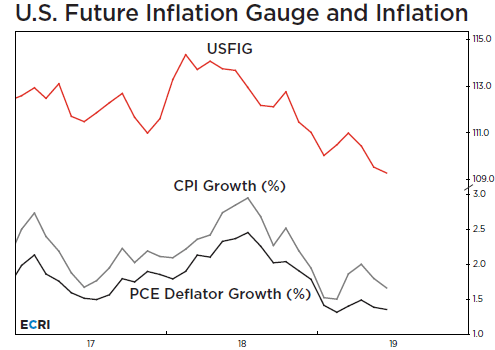 In fact, following the USFIG downturn (chart, upper panel), year-over-year (yoy) CPI inflation (lower panel, gray line) and yoy growth in the personal consumption expenditures (PCE) deflator (lower panel, black line) – the Fed's inflation target measure – both turned down in mid-2018. That cyclical downswing continues, despite the latest uptick in core PCE deflator growth (not shown) that looks to be tariff-driven and thus likely to be temporary.

Now, many are focused on whether the Fed is acting in time to head off a recession, still ignoring the elephant in the room – the inflation cycle. However, it is the inflation cycle that bears watching.

Indeed, the downturn in the USFIG allowed our clients to be forewarned and prepared for the plunge in bond yields that began last fall. That downturn was a precursor to the Powell pivot early this year. Today, the ongoing inflation cycle downturn predicted by the USFIG gives the Fed plenty of room to cut rates.

Click here to review ECRI's recent real-time track record.

For information on ECRI professional services please contact us.

Follow @businesscycle on Twitter and on LinkedIn.