PMIs Up In Line with Earlier Forecast
It's no surprise that international PMIs around the world are still surging. Back in May, we made an "Industrial Growth Revival" call for our clients using our array of global industrial leading indexes.

Read May 2020 International Essentials excerpt here

This outlook was confirmed by our high-frequency indicators, including the ECRI Industrial Price Index (IPI), released daily.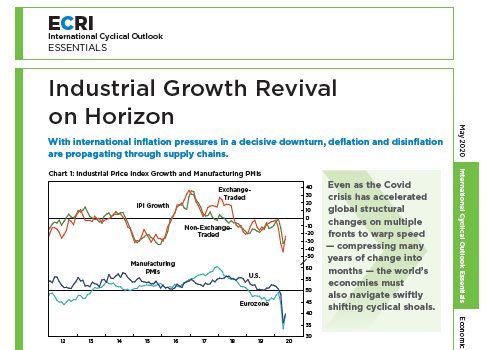 A key reason the IPI is different from other commodity price indexes is that about half the commodities it tracks aren't exchange-traded. So it isn't jerked around by speculative forces the way exchange-traded commodity prices – like oil prices – can be. Anchored by the prices of commodities that are less familiar but are also vital industrial inputs, the IPI provides a more reliable read of cyclical swings in broad commodity price inflation.

Importantly, the IPI isn't a stand-alone tool, and is best used in the context of ECRI's understanding of cycles in global industrial growth.

As investors look for clues to the next turn in commodity price inflation, PMIs and global growth, the ECRI IPI, along with our array of sequential leading indexes of global growth, is likely to provide the most reliable early warning.