PMIs Have Not Bottomed Yet
The manufacturing PMIs are the holy grail of indicators for many market participants. ECRI's U.S. Leading Index of Manufacturing PMIs (USLIMPMI) anticipates cyclical shifts in the ISM and Markit manufacturing PMIs for the U.S.

The USLIMPMI, which typically leads cyclical turns in both PMIs by a couple quarters, turned down in early 2017 (chart, upper panel), and the PMIs followed suit in 2018 (lower panel). With the USLIMPMI falling back towards February's decade low in May, it was clear that PMIs would remain in cyclical downturns. This has held true, as the ISM PMI slipped to a nearly-three-year low and the Markit PMI fell to a nearly-ten-year low in July.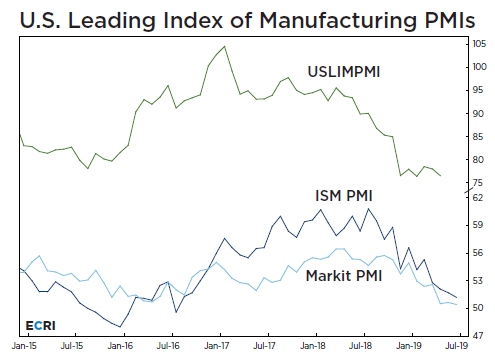 The USLIMPMI is one of a few ECRI leading indexes that anticipate cyclical turns in PMIs. Indeed, as we highlighted in early 2018, "ECRI's long leading indexes have statistically significant leads over composite PMIs for the G7 economies." Meanwhile, the early-2017 downturn in ECRI's Global Leading Manufacturing Index growth anticipated the late-2017 cyclical downturns in both global industrial growth and the global PMI, even though the global PMI failed to predict the downturn in global industrial growth.

Looking ahead, the USLIMPMI is an important tool for anticipating directional changes in the PMIs, which will continue to shape market perceptions about the economy. The latest USLIMPMI update, released to our clients last month, suggests no near-term recovery in the PMIs.

Click here to review ECRI's recent real-time track record.

For information on ECRI professional services please contact us.

Follow @businesscycle on Twitter and on LinkedIn.