Outsized Gains for Least Educated Limits Wage Growth
The robust job market is almost universally acknowledged. Sure enough, the headline Employment/Population (E/P) ratio has now risen to 60.5% – its highest reading since January 2009 (not shown). But appearances can be deceiving.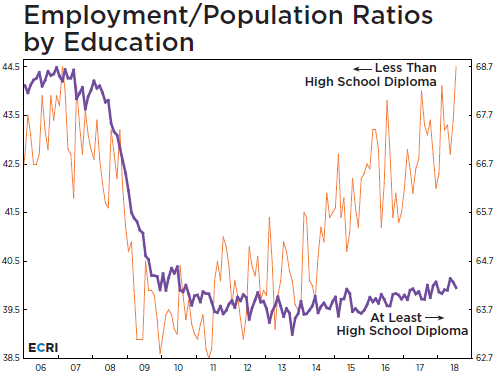 In fact, the revival has been heavily skewed toward the tenth of the population without high school diplomas. Specifically, the E/P ratio for those without high school diplomas, which has climbed to 44.5%, has never been higher.

Notably, those without a high school diploma now make up just 10% of the population, that proportion having shriveled from over 50% before the mid-1960s. This percentage continues to shrink, and its decline won't be slowed by a push to limit low-skilled immigration.

The situation is completely different for those with at least a high school diploma, although a larger proportion of them are employed to begin with. For the nine in ten Americans with at least a high school diploma, the E/P ratio ticked down to 64.2% in July, having barely budged since President Trump took office.

In that sense, the fortunes of the least-educated — and lowest-paid — workers have improved disproportionately, while the more educated have made little headway.

This is one reason for the weakness in wage growth, given the tight labor markets reflected in a 3.9% jobless rate. In essence, the jobs recovery has been spearheaded by cheap labor.

Click here to review ECRI's recent track record.

For more information on ECRI professional services please contact us.